Varieties, Iowa State's annual student talent competition, turns 85 this year. The semifinals (two performances nightly) are scheduled for Friday-Saturday, Feb. 5-6. The finals show will be presented twice two weeks later, on Feb. 19-20. All performances are in the Memorial Union Great Hall.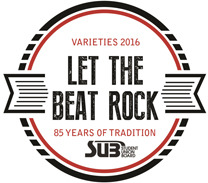 "Let the Beat Rock" is this year's theme, and performers were encouraged to incorporate it into their performances. Varieties director and senior Rachel Welsh said students also are welcome -- though not required -- to note the 85th anniversary milestone in their material.
What you'll see
Any Varieties show lasts about two hours and includes a set of mini-musicals alternating with vignettes, all pulled together and introduced by emcee teams of two or three people. ISU students compete in all three categories.
Musicals are up to 22 minutes in length and feature original lyrics and choreography performed by groups of 30 to 60 students, largely members of ISU Greek fraternities and sororities. Vignettes, with a time limit of 10 minutes, showcase a wide range of student talents, from comedy to juggling, dancing and singing. Welsh said all seven vignettes this year are music-based performances, either vocal or vocal with instrument accompaniment.
Students in this year's seven musicals, seven vignettes and four emcee teams first performed in December during an exhibition. Welsh said it was a chance for the students to practice on a stage in front of judges who critiqued them as part of their preparation for the competition rounds.
Friday's semifinal performances will feature three of the musicals, four vignettes and two different emcee teams. Saturday's semifinals will feature the other four musicals, three vignettes and two emcees.
The top four musicals, four vignettes and two emcee teams will advance to the finals round and compete for the top trophy in each category.
Performances
Semifinals (Feb. 5-6): 6 and 9 p.m., doors open 30 minutes prior to each performance
Finals (Feb. 19-20): 7 p.m., doors open at 6:30 p.m.
Tickets
Tickets are $10 for the semifinal performances and $13 for the finals. ISU students with ID and children 12 years or younger receive a $2 discount on both, and group tickets (10 or more guests) receive a $1 discount. Tickets are available online via Midwestix, at the Maintenance Shop box office in the Memorial Union or by phone, 294-8349, weekdays 11 a.m.-5 p.m.
Varieties is organized by the Student Union Board.