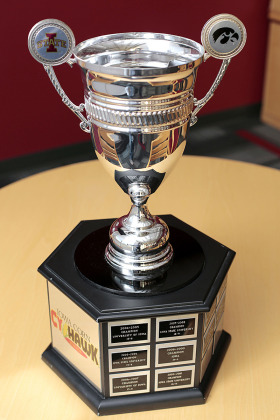 Three Cyclone squads will host the Iowa Hawkeyes in the next few days as part of the intrastate CyHawk Series. Men's basketball tips off at 6:30 p.m. Thursday, Dec. 10, at Hilton Coliseum, with the women's basketball squads following at 7 p.m. Friday. The Iowa State and Iowa women's swim teams have a dual meet starting at 6 p.m. Friday in the Beyer Hall pool.
Only resale tickets remain for the men's basketball game; women's tickets are available for $6-$12, with tickets in the balcony ends on sale, five for $5. Admission is free to the swim meet.
The Hawkeyes lead this year's series 10-4, picking up points in volleyball, football, women's soccer and wrestling, and an academic point for last spring's graduation rate. Iowa State's early points came in women's and men's cross country.
The CyHawk Series Trophy (pictured) currently is at home in the Jacobson Building, following last spring's Iowa State victory.