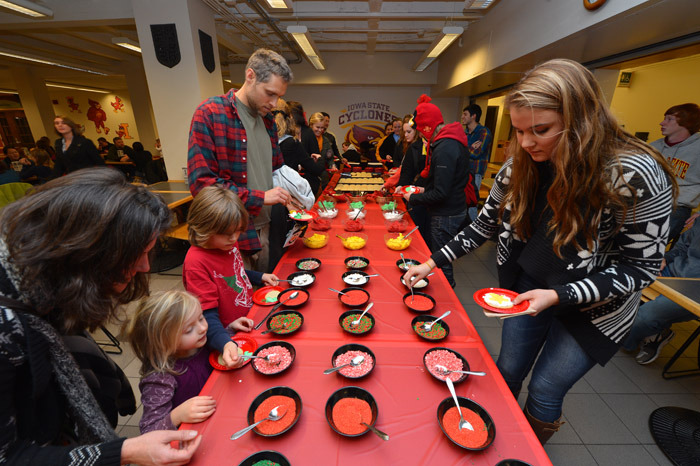 Embrace the chill in the air and celebrate all things winter during WinterFest 2015. Most events are held in the Memorial Union and are free, unless indicated. A complete list of activities is online.
Holiday fun at The Knoll
ISU first lady Janet Leath invites the campus community to a free holiday open house at The Knoll from 3 to 6 p.m. on Dec. 4. Tour the home's first floor, which is decked out for the holidays, while sipping a cup of Knoll hot chocolate (adapted from the recipe of former ISU first lady Ellen Sorge Parks). Parking near The Knoll is limited, so bundle up and enjoy a wintery walk to the event.
Clothing drive, (through Dec. 4), preferred items are hats, socks, coats and gloves for the Ames Emergency Residence Project, drop-off locations are at the MU Main Lounge (across from the post office), Carver Hall (near the pop machine on the main level), Beardshear Hall (next to the Student Answer Center), Gerdin Business Building (inside the undergraduate office), LeBaron Hall (main entrance) and Hoover Hall (main entrance by the staircase)
University Book Store winter savings sale, (Dec. 3-4, 7:45 a.m.-6 p.m.; Dec. 5, 9 a.m.-5 p.m.; Dec. 6, noon-4 p.m., UBS), 50 percent off selected items throughout the store, list of other deals
Art Mart, (Dec. 3, 11 a.m.-6 p.m.; Dec. 4, 10 a.m.-6 p.m.; Dec. 5, 10 a.m.-3 p.m., MU Campanile Room), features glass, pottery, prints, jewelry and more priced between $3 and $20, proceeds support sponsoring organizations and artists
Seasonal beverage sampling, (4-7 p.m., MU Market Café), beverages include holiday blend coffee, eggnog latte, candy cane mocha and macadamia white mocha
Andy Albright Jingle Jog, (registration 4-5:15 p.m., MU Multicultural Center; run begins at 5:30 p.m., $20, proceeds fund a freshman scholarship
Campanile tours and carillon music, (4-6 p.m., campanile), tours led by ISU carillonneur Tin-Shi Tam
Photos with the snow princess and ice queen, (4-7 p.m., MU Cardinal Room), inspired by the hit Disney movie, Frozen
Spin art Frisbees, (4-8 p.m., MU Commons), while supplies last
Bingo, (4-8 p.m., MU Pioneer Room)
Bowling and billiards, (4-9 p.m., CyBowl and Billiards, formerly the Underground)
Aqua massage beds, (5-10 p.m., MU Pine Room), relax and unwind after a long week
I Spy ornament craft, (5-8 p.m., the Workspace)
Tree-lighting ceremony, (5:30-5:45 p.m., steps of Beardshear Hall), live music
Cookie decorating, (6 p.m., Trophy Tavern in the MU Commons), decorate sugar cookies and drink hot chocolate, while supplies last
Photo snow globes, (6-8 p.m., MU Cardinal Room), while supplies last
Letter-writing service project, (6-8 p.m., MU Cardinal Room), sponsored by ISU Student Veterans of America
Wax hands, (7-11 p.m., MU Commons), make molds of hand gestures
Ice skating, (8 p.m.-2 a.m., Dec. 5, Ames/ISU Ice Arena), free for the first 600 participants
Comedian Demetri Martin, (9 p.m., MU Great Hall), tickets are $20 ($12 for students) and available online
Late-night pancakes, (10:30 p.m., MU Food Court)