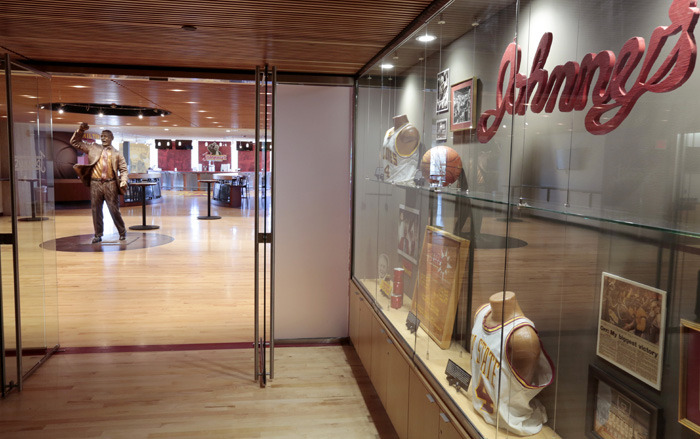 Basketball fans attending the Cyclone women's (7 p.m. Thursday) or men's (7 p.m. Friday) season-opening exhibition games this week at Hilton Coliseum will notice a bright change at the east end of the arena: Over the summer and fall, the athletics department expanded Johnny's, its gameday gathering spot for donors, across the building's outer concourse. Johnny's now opens onto the east inner concourse.
The expansion was driven by demand, said senior associate athletics director Chris Jorgensen. More donors are eligible to use the space, and the original Johnny's wasn't large enough to accommodate them, he said. Eligibility rules remain the same.
The $1 million project adds about 50 percent more space to Johnny's, most of which is floor space and seating for guests. The expanded Johnny's also includes two new bars, a food service area, larger coat checkroom and self-serve soda and water fountains.
The Hy-Vee concession stand formerly in that location will be replaced with portable stands on the concourse. The Johnny's expansion had no impact on public restrooms on Hilton's east side.
Johnny's opened during the 2010-11 season in offices vacated when the Sukup basketball practice facility opened on South Dakota Avenue. It honors former men's basketball coach Johnny Orr, who led Cyclone teams from 1981 to 1994.