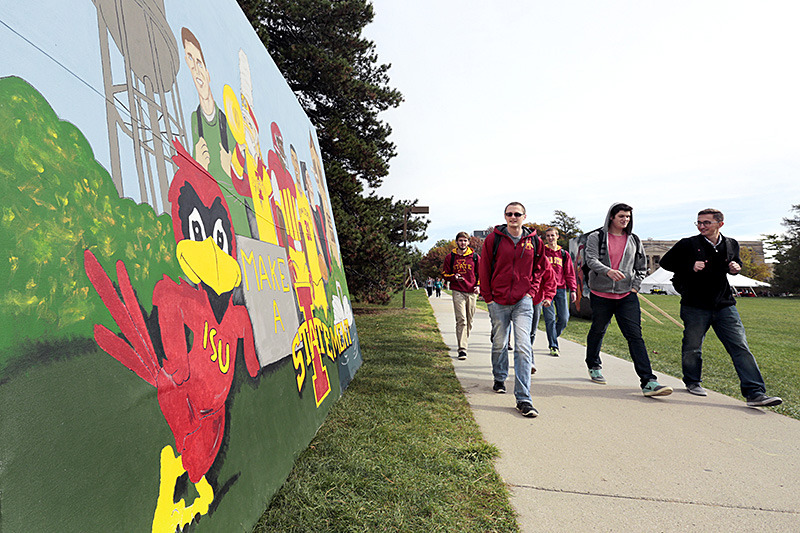 Victory Lane is painted, Yell Like Hell teams are competing and food is being served in the tent on central campus. Iowa State's 103rd homecoming, "Make a STATEment," is underway and a new feature has been added to the lineup of events.
The alumni association will host its inaugural Homecoming Hub Friday, Oct. 30 (1-8:30 p.m.), in the Alumni Center. Visitors can pick up a free, limited edition print of Jack Trice Stadium, campus map and events schedule, and enjoy snacks and refreshments. There will be giveaways and tours, and merchandise will be available for purchase.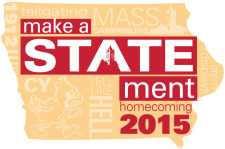 Homecoming 2015: Make a STATEment
Events are free, unless marked. Homecoming buttons ($5) are on sale from 10 a.m. to 2 p.m. in the free speech zone outside The Hub and at a table near the ISU Book Store entrance.
Thursday, Oct. 29
10:30 a.m.-1 p.m., Food on Campus, central campus, Panchero's Mexican Grill (burrito bowls), free with homecoming button
Friday, Oct. 30
10:30 a.m.-1 p.m., Food on Campus, central campus, Iowa Pork Producers (pork patties), ISU Dairy (ice cream) and Olde Main (root beer floats), free with homecoming button
1-8:30 p.m., Homecoming Hub, Alumni Center, merchandise, campus maps, event schedule, giveaways and treats
1:30 p.m., Honors and Awards Ceremony, Benton Auditorium, Scheman Building, followed by a dessert reception (2015 award winners)
3-5 p.m., Open house and tours, Human Sciences (118 MacKay) and Agriculture and Life Sciences (Curtiss) colleges
5-9 p.m., Pep Rally and Yell Like Hell finals, Alumni Center, live music, food trucks, merchandise, carnival games, giveaways, Cardinal Court recognition and appearances by coaches and student-athletes
6 p.m., Swimming and diving vs. Nebraska-Omaha, Beyer Hall
7 p.m., Soccer vs. Texas Tech, Cyclone Sports Complex
8-10 p.m., ExCYtement in the Streets and lawn displays, Greek neighborhood
10 p.m.-1 a.m., Pancake feed, central campus, $3
Midnight, Mass campaniling and fireworks, central campus
Saturday, Oct. 31
Noon, Volleyball vs. Oklahoma, Hilton Coliseum, $5
3-5:30 p.m., Cyclone Central tailgate, Alumni Center, games, prizes, merchandise, cash bar, marching band performance and optional catered meal
6 p.m., Football vs. Texas, Jack Trice Stadium, $30-$65