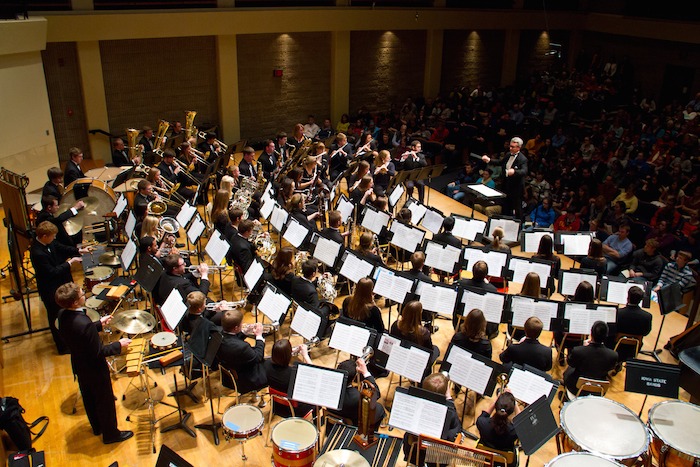 A diverse musical repertoire will fill Music Hall's Martha-Ellen Tye Recital Hall next week when several ISU student music groups make their fall concert debuts.
ISU Wind Ensemble
The 60-member ISU Wind Ensemble, directed by music professor and chair Michael Golemo, takes the stage Sunday, Oct. 4, at 3 p.m. The group will perform "Star Wars" by John Williams, "Celebration Overture" by Paul Creston and "Winter Dreams" by Michael Daughtery. Admission is $5 ($3 for students).
ISU Jazz Combos
Two groups of 12 students, directed by senior lecturer Michael Giles, will present a variety of small-group, improvisational jazz performances on Tuesday, Oct. 6, at 7:30 p.m. The combos, which typically consist of two horn players and a rhythm section, will celebrate the '80s, playing popular music from the decade as well as other less familiar jazz selections composed during that time. There is no admission fee.
ISU Jazz Ensembles I and II
ISU's Jazz I and Jazz II Ensembles feature up to 21 students each. Jazz I is directed by associate professor James Bovinette, and Jazz II is led by Giles. Both groups will perform Wednesday, Oct. 7, at 7:30 p.m. Jazz I will play a mix of contemporary jazz and standard big band numbers. Jazz II will perform an "as-seen-on-TV" set, showcasing television show themes. Admission is $5 ($3 for students).