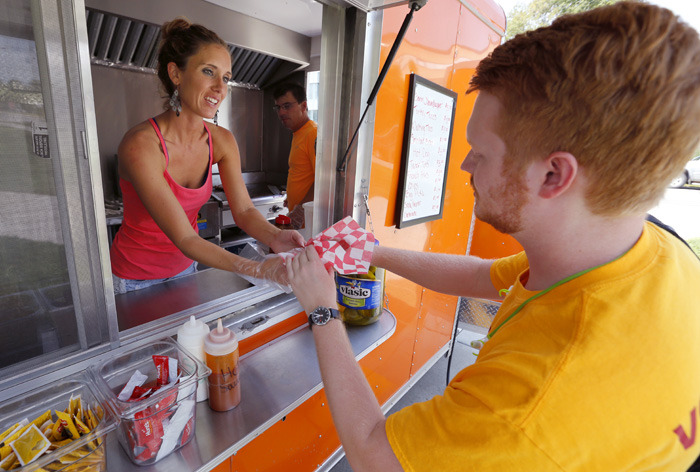 Don't want to risk losing your spot in the parking lot if you leave campus for lunch? In addition to ISU Dining's cafés, dining centers and restaurants, the number of private food vendors providing service this fall has jumped to eight.
The newest addition is Radcliffe-based Eat It!, located near Coover Hall along Bissel Road and serving Tuesday through Friday. The menu features grilled fare such as brats, hot dogs and bacon cheeseburgers. Another specialty is turkey tacos.
Some other changes for fall include:
Burgies coffee and tea truck has moved, from the west to the east side of campus. Burgies is a morning-only option (8 a.m.-noon). Find the truck east of Bessey Hall.
Carlos' Quesadillas, a mainstay between Lagomarcino and Kildee halls for two years, has added a second location on the west side, southwest of Hoover Hall.
Iowa State launched the food truck concept in May 2013 with one vendor and added three more by that fall. Private companies work with ISU Purchasing to receive contracts to do business on campus. Most of the vendors operate during an extended lunch period, approximately 11 a.m. to 2 p.m., and as weather allows. Cash and credit cards are accepted.
Here's the fall lineup, by location:
East of Bessey Hall
B Fabulous BBQ, pulled pork sandwich or taco, brisket nachos, smoked turkey sandwich, homemade sides and desserts
Burgies (mornings), breakfast burrito, brewed coffee, espresso drinks and chai tea
Between Kildee and Lagomarcino halls
Finley's Curbside Beastro, wraps, pork tenderloin and grilled chicken sandwiches, burgers, walking taco
Carlos' Quesadillas (formerly El Mexicano), chicken, steak or vegetable quesadilla and taco
Carver Plaza (between Carver and Beardshear halls)
The Cheese Steak Factory, made-to-order grilled steak, chicken or portobello mushroom sandwich
Macubana, Cuban sandwiches, cheesy empanadas
Southwest of Coover Hall
Eat It!, turkey taco; grilled items such as bacon cheeseburger, bratwurst and hot dog; tater tots and French fries
Southwest of Hoover Hall
Indian Delights, entrees featuring basmati rice with spiced chicken or vegetables, samosa (deep fried vegetable patty)
Carlos' Quesadillas (No. 2)