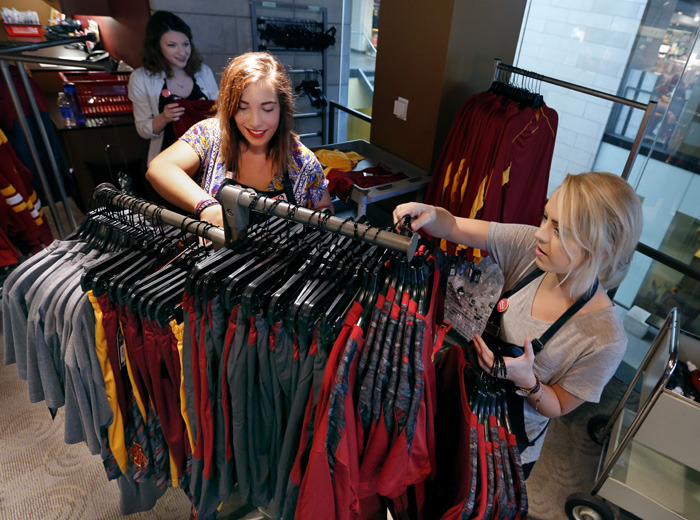 The end of summer office hours on Friday is one indicator that a new academic year is approaching. An uptick in student activity, beginning this weekend, should confirm it. Inside provides a quick overview of some of the activities happening in these last days before fall classes begin on Aug. 24.
New student move-in
First-time students living in residence halls will move in Tuesday-Wednesday, Aug. 18-19 (8 a.m.-8 p.m. daily, odd numbered rooms one day, even the next). Once a vehicle pulls up outside a hall, that family has 30 minutes to unload and move things inside. Sound impossible? Not at all when you have a small army of volunteers assisting – and they will. Nine hundred returning students will move back this weekend to help with the job. You'll know this generous group by their gold T-shirts.
Returning students
Apartment buildings operated this year by the residence department – including Frederiksen Court, Schilletter University Village, the Legacy tower in campustown and 30 leased apartment buildings in southwest Ames – all open to students on Saturday, Aug. 15.
Iowa State's residence halls open to returning students at 8 a.m. Thursday, Aug. 20. Residence staff will be available through Sunday evening to check students into their rooms.
Residence department leaders advise faculty and staff to avoid areas where move-in congestion may occur Tuesday through Friday, including Beach Road on the east side of campus and Union Drive on the west side.
Parking lots adjacent to residence halls -- including employee lots -- will be closed to permit holders and reserved for move-in families Aug. 14-21.
Destination Iowa State
New students move in a few days early so their rooms are ship-shape by Thursday afternoon. Destination Iowa State (DIS), a three-day event designed to ease new students' transition to college life, begins with an outdoor picnic and kickoff at Hilton Coliseum Thursday evening.
As of last week, more than 5,750 first-time Iowa Staters – both freshman and transfer students – had registered. For the last few years, around 80 percent of freshmen, and about 65 percent of the incoming class overall, has attended DIS.
Led by 480 returning students, in teams of 12-15 they'll learn a little about managing their money, classroom etiquette and expectations from a faculty perspective, and living in a diverse community. They'll complete a community service project, better learn their way around campus, pick up their textbooks, enjoy meals together and attend nightly special events.
Destination Iowa State concludes Saturday night.
Sorority recruiting
More than 850 young women are registered for Iowa State's sorority recruitment events, which open Friday evening, Aug. 14, and continue through Thursday, Aug. 20. Recruits will move into their residence halls Friday morning, Aug. 14; returning sorority members began returning to their houses on Aug. 10.
If you haven't witnessed it, "Bid Day" during the morning of Aug. 20 will bring thousands of young women to central campus. Amid lots of cheering and running, young women are matched with sororities that reflect their personal academic, philanthropic and community service goals.
Marching band camp
A "fundamentals" camp for rookies and auditions for nearly 500 students vying for a spot in this fall's Cyclone football marching band are held Monday-Wednesday, Aug. 17-19. Band camp, for an estimated 350 newly auditioned members -- woodwinds, drums, color guard and twirlers – runs Aug. 20-23 at the practice field west of the Communications Building.
Joining the camp will be an addition to Iowa State's marching band lineup: a new band that will perform during football tailgating, soccer games and, this winter, wrestling matches.