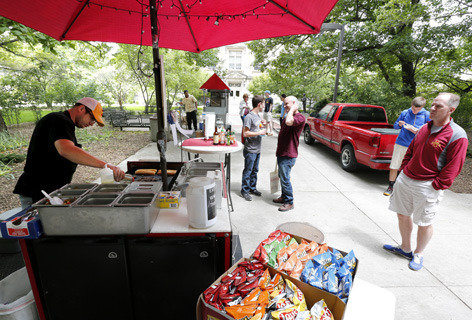 Four food truck vendors – in two locations – have committed to serving the campus community most weekdays this summer. By location, the four are:
Plaza between Carver and Beardshear halls:
The Cheesesteak Factory
Macubana
Stange Road/Osborne Drive intersection (west of Kildee Hall):
Finley's Curbside Beastro
Carlos' Quesadillas (previously operating as El Mexicano)
"The commitment we really need from them is the fall and spring semesters," said associate director of purchasing Cory Harms, who coordinates the university's contracts with the vendors. "If there's not a lot of business traffic and they're not making money, we don't require them to be here. We want them to be successful."
Wet weather or other short-term opportunities – summer fairs, for example – may take a vendor away from campus for a few days, and that's fine with Harms.
Looking ahead
Harms said he has room for seven truck vendors currently, three on the east side of campus, two centrally and two on the west side. In addition to the four summer vendors, he said he anticipates the fall lineup will include Burgies Coffee and Tea truck, B Fabulous BBQ and possibly a second, west-side site for El Mexicano. Streets of Europe, which operated near Hoover Hall this spring, did not renew its contract, he said.