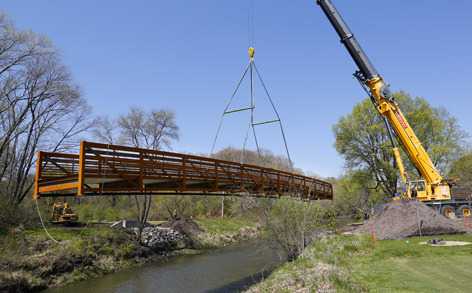 About five months in the making, crews placed a 120-foot, self-weathering steel bridge across Squaw Creek on the Veenker golf course April 23. The new bridge, wide enough for maintenance trucks or for two golf carts to meet, replaces a steel cable suspension bridge that was original to the course (1938). One of the cables failed the first week in November and university crews removed the bridge within weeks.
The new bridge is the middle of three pedestrian bridges that span the creek on the golf course. With golfers from four holes using it, it's also the busiest. To keep the course operational with minimal river crossings, Veenker managers altered the hole playing sequence and installed a temporary No. 16 green on the east side of Squaw Creek.
Fabricated in suburban Minneapolis, the bridge was transported to Ames in two pieces on semitrailers. The two sections were bolted together and lifted into place as a single piece. The bridge was installed at a slight downward tilt to the north so that future floodwaters will flow more easily over its surface. A concrete bridge deck is scheduled to be poured on the galvanized metal forms yet this week, with concrete bridge approaches to follow. Clubhouse manager Tess Balsley said the goal is to have golfers using the new bridge the second or third week in May.