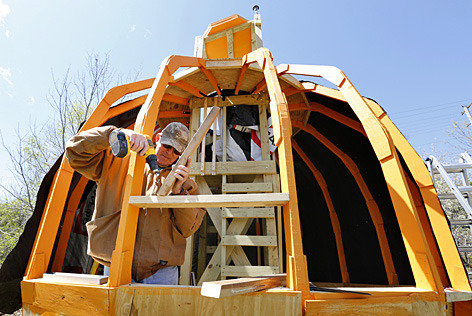 As part of Reiman Gardens' 20th anniversary celebration, eight individually themed structures are being installed this week. The tiny buildings are part of the "Intreeguing Treehouses" outdoor exhibit.
Visitors will find the interactive houses scattered throughout the gardens' 14 acres. Although not located in trees, the structures sit among them. Each is crafted by local architects and artists and inspired by a specific celebration or event.
The exhibit opens Saturday, April 25, and runs through Oct. 25. Reiman Gardens is open daily, 9 a.m. to 4:30 p.m., with extended summer hours (until 6 p.m.) from Memorial Day through Labor Day. General admission is $8 ($7 seniors, $4 youth); free with annual memberships ($55 and up).
"Intreeguing Treehouses" exhibit
| | | |
| --- | --- | --- |
| Structure name | Artist | Inspiration |
| 1872 Arbor Day Lane | Scott Rummery | Arbor Day |
| Metaphotonic Pod | Reinaldo Correa, Curt Engelhardt | Butterfly metamorphosis |
| Obon To | Denny Salisbury, Carroll Marty | Japanese Obon festival |
| Text Hut | Skip Willits | Festival of Books and the written word |
| The Audubon Treehouse | Mike Gustafson | Audubon Day |
| The Aviary: A Migratory Bird Hatchery | Pam Dennis, Ryk Weiss | International Migratory Bird Day |
| The Great Pumpkin | Carroll Marty | Halloween |
| Treehouse Surprise | Denny Salisbury, Carroll Marty | Find it to see it |