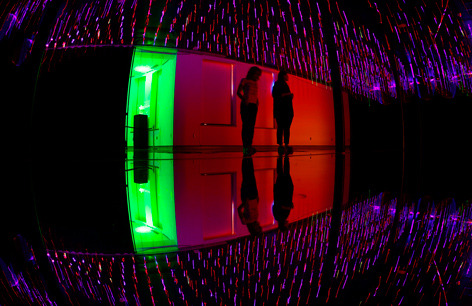 By popular request, the laser show that's been bedazzling Morrill Hall visitors over the past month will be open for after-hours viewing. So far, artist Dan Corson's laser installation "Coherence" in the Christian Petersen Art Museum has been available during the usual museum hours -- 11 a.m. to 4 p.m. on weekdays.
Many of those exiting Corson's mesmerizing manipulation of laser beams and mirrors asked if the exhibit could be extended to weekends or evenings so that they could bring family and friends, said Allison Sheridan, university museums program coordinator.
In response, museum staff added these weekend and evening viewing times for the exhibit:
Sunday, April 26, 1-4 p.m.
Saturday, May 9, 10 a.m.-2 p.m. (commencement open house)
Wednesday, May 27, 6-8 p.m.
The exhibit will remain open regular weekday hours (11 a.m.-4p.m.) during the break between the end of spring semester and beginning of summer. The exhibit runs through May 29.