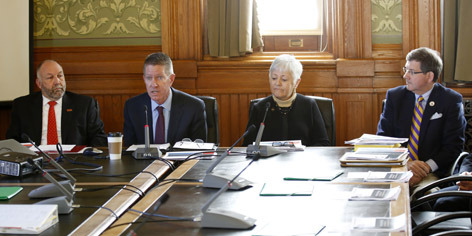 President Steven Leath (left) was part of the team that visited the State Capitol on Feb. 26 to present the regent universities' funding requests for next year to the joint Education Appropriations Subcommittee. With Leath are (l-r) Board of Regents president Bruce Rastetter, University of Iowa president Sally Mason and University of Northern Iowa president Bill Ruud.
Noting that two-thirds of Iowa State's enrollment growth in the last eight years is in the colleges of Engineering and Agriculture and Life Sciences, Leath told committee members, "we want them to continue to come in ag and engineering, we want them to graduate, we want them to get good jobs, but this is getting to be increasingly difficult for us." Photo by Christopher Gannon.
Full transcript of Leath's 10-minute presentation to the subcommittee.