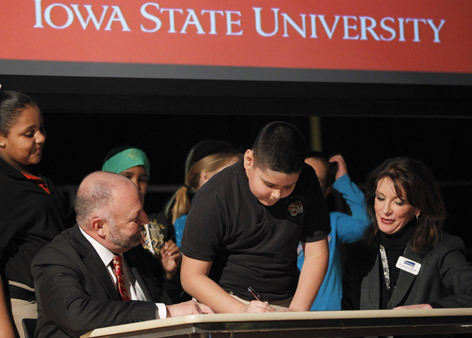 Iowa State and the Des Moines public school district are working with families and neighborhood organizations to make college more accessible and affordable for students at King Elementary and Moulton Extended Learning Center. On Jan. 13, President Steven Leath visited Moulton to sign the "ISU 4U Promise" memorandum of agreement.
The partnership will provide educational and teaching assistance as well as tuition awards for the ISU 4U Promise program. To qualify for an award, King and Moulton students must meet the following criteria:
Meet annual attendance requirements and behavior/disciplinary standards set by the Des Moines public school district
Set annual performance goals with their teacher and maintain a portfolio appropriate to grade level
Submit a letter of interest to Iowa State at the conclusion of 5th grade
Tuition awards will vary, based on length of enrollment at King or Moulton school. For example, one year enrolled garners a 20 percent tuition award; students enrolled five or more years would receive a full tuition award.
Students who qualify after completing elementary school then must enroll in coursework during middle and high school necessary to qualify for admission to Iowa State, complete the ACT test as a junior and apply for admission to ISU during their senior year.
"The ISU 4U Promise embodies Iowa State University's land-grant principle that a college education should be accessible and affordable," Leath said. "A degree from Iowa State holds great value, and we believe these students will bring great value to our university."
Read more about the ISU 4U Promise.