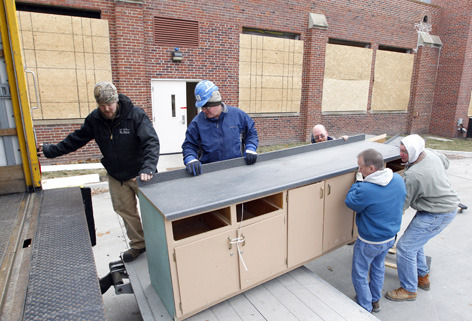 The 92-year-old Davidson Hall -- former home of the agricultural and biosystems engineering department -- is being prepped for demolition, which gets underway in early January. An asbestos abatement crew will complete its work later this month.
This week, a team from Greater Des Moines Habitat for Humanity (pictured above) was in the building to salvage an assortment of well-used items, including cabinets, laminate counter tops, bulletin boards, white boards and a 10-inch-thick freezer room door. These will be sold at Habitat's ReStore (I-235 and Euclid) in Des Moines, which supports the organization's affordable housing projects while keeping tons of reusable building materials out of landfills.
Previously, ISU asset recovery removed 20 truckloads of office furniture and Bell Salvage purchased about 10 tons of metal removed from the building. The ABE department relocated about 50 pieces of teaching and research equipment to Sukup Hall, and plans to repurpose the "Agricultural Engineering" engraved limestone piece above the Davidson south entrance. Still other items, including fire alarm panels, exit signs, two dozen door locksets, an overhead garage door opener, white boards and a glass display cabinet, will be reused by facilities planning and management or other ISU units.
The building demolition -- a dismantling, sorting and recycling process, really -- is expected to take about 3.5 months to complete. The parking row immediately next to the building on both the east (lot 25) and west (lot 23) sides, will be unusable during this time.
Photos by Christopher Gannon.