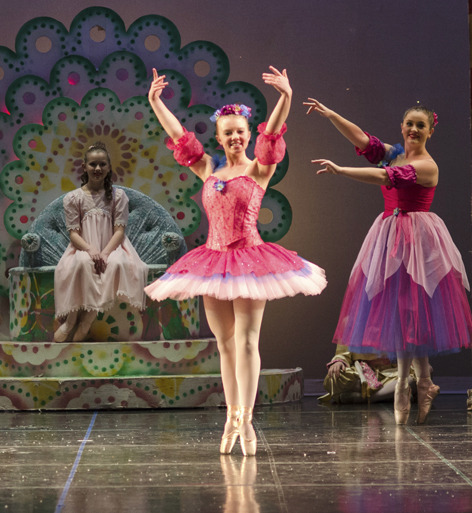 One of this country's most identifiable dance performances, The Nutcracker Ballet, returns to the Stephens Auditorium stage this weekend, Dec. 13-14, for three holiday shows. Performances begin at 1:30 p.m. Saturday and Sunday. There also is a 7:30 p.m. performance on Saturday.
Set to Peter Tchaikovsky's famous score, the 34th annual Iowa State Center production features choreography by Robert Thomas and Miyoko Kato Thomas, owners of the Dancenter in Ames. It stars more than 200 school-age and adult dancers from central Iowa communities, and features professional dancers in the roles of the Sugar Plum Fairy and her Cavalier. Ames native and New York City-based Joy Voelker and freelance dancer Matthew Prescott will fill those roles, respectively, this year. Voelker is no stranger to the central Iowa production. This year marks her fifth in the Sugar Plum Fairy role; she also danced the role of Clara in the 1995 edition of the ballet.
The Nutcracker Ballet tells the story of a young German girl, Clara, who falls asleep and dreams of a Nutcracker prince and his fierce battle against a Mouse King. In gratitude for her assistance, the prince takes Clara to a magical place where they are welcomed by dancing snowflakes and flowers, and where many other dancers perform for them. The ballet concludes when Clara wakens. In her arms is her favorite Christmas gift, a Nutcracker.
Tickets are $25 for adults and $20 for seniors, ISU students and youth 18 years and younger. Tickets may be purchased online via Ticketmaster (additional fees apply) or at the Stephens ticket office (10 a.m.-4 p.m. Monday-Friday and 90 minutes prior to each show).