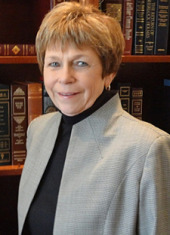 An Iowa State alumna who has led three other universities as vice president for academic affairs and provost will return to Ames to lead the School of Education.
Marlene Strathe will become the next director of the School of Education on Jan. 1, 2015.
"Dr. Strathe is a seasoned administrator with a wealth of educational experience," said Pamela White, dean of the College of Human Sciences. "Her leadership will greatly assist the School of Education in its multifaceted efforts to advance learning, teaching, research and outreach to benefit people of all ages and from all backgrounds."
Strathe has held high-ranking leadership positions at several other institutions. She served as provost and senior vice president of academic affairs as well as interim system CEO and president at Oklahoma State University. She was provost and vice president for academic affairs at both the University of Northern Colorado and University of North Dakota; and assistant vice president of academic affairs at the University of Northern Iowa. She's currently a professor in the School of Education at Colorado State University.
"Having been a vice president for academic affairs and provost at multiple institutions, she certainly knows complex organizations, has worked with and supported faculty members, and can make positive connections with the many different constituencies with which our director must interact regularly," said Robert Reason, a School of Education professor who co-led the national director search. "I look forward to working with her to move the school forward."
Amy Slagell, an associate dean in the College of Liberal Arts and Sciences served as co-chair of the search committee.
"The search process brought together students, staff and faculty from the School of Education with representatives from student affairs, Extension, the Ames school system, and the Colleges of Agriculture and Life Sciences, Human Sciences, and Liberal Arts and Sciences," Slagell said.
"We all look forward to working with her in her new role," Slagell said. "The breadth of her experience will be a great fit for the collaborative environment we foster at ISU."
Strathe's research interests include academic administration, special vocational needs education, and teacher education and preparation.
She earned four degrees from Iowa State, including bachelor's degrees in both government and bacteriology, a master's degree in psychology/counseling and higher education, and a doctorate in education with an emphasis in research and evaluation. She also holds an education specialist degree in educational psychology/evaluation from Northern Iowa.
John Schuh, a Distinguished Professor of education who has served as the school's director since July 1, 2013, will continue to direct Iowa State's Emerging Leaders Academy.
"I would like to thank John Schuh for his outstanding leadership of the School of Education," White said. "His wisdom, skill and thoughtfulness have served the school well. I am deeply grateful for his caring and superlative service."