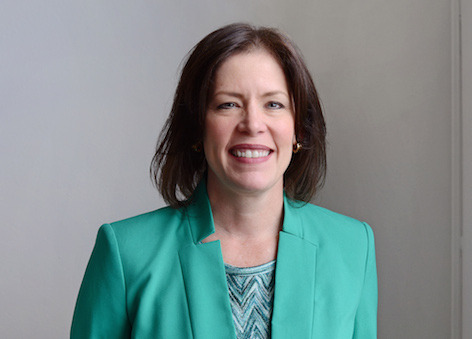 Julie Nuter took over the helm of Iowa State's university human resources (UHR) department last December. In less than a year, she led an overhaul of the university's online hiring system, creating a more efficient and user-friendly process using PeopleAdmin 7. Inside recently sat down with Nuter to find out what else she has planned.
The basics
Name: Julie Nuter
Position: Associate vice president for university human resources
Time at ISU: 10 months
Previous post: Associate vice president for human resources, DePaul University, Chicago
What is your focus for UHR?
When I think about human resources and the impact we have, I focus on two things: talent and how we attract, retain, develop and reward that talent. I'm very focused on supporting our leaders, faculty and staff in being successful in the work they do here. I'm interested in making sure there are programs in place to develop skills and careers, and that we reward great performance because we are a university focused on excellence. We need to create the systems, supports and programs -- and ultimately the culture -- that exemplifies that excellence as well.
Do you have any specific programs in mind?
Last spring, we launched a manager training needs assessment. We'll be developing an action plan from that needs assessment. It will include enhancing current programs and creating new learning and development opportunities for the campus. We are also transitioning to a university-wide employee training portal that brings together the diverse options across campus. It would be a central place -- a catalog of training -- for employees to know what training is offered. It would offer a single way to register for different types of training, whether it is classroom or online training. It also could integrate with other resources, such as job aids, reading lists or other supports that might be helpful. Our focus on management training is to prepare excellent managers who will lead ISU forward.
What's the one thing ISU could do better as an employer?
Iowa State has a great story to tell, and we could do a better job of telling that story from an employer's standpoint. We have a great brand as an institution of learning, research, extension and outreach, and economic development. And so, by default, that means we have great people doing great things. I think our brand as an institution is well known, but the connection to us as an employer has not necessarily been made. We need to focus on how that message carries out in everything we do in human resources, especially how we interact with employees and support campus to be successful using our HR policies and procedures. The recruitment process is one of the key ways to tell our story and our new jobs portal leads us in that direction. Another key way is through benefits, whether it's open enrollment, someone's initial enrollment or a life-event change. Those are all opportunities for UHR to have an impact. I'll also be hiring a new director of benefits. One of my hopes for this position is a focus on a communications strategy that supports telling this great story.
You moved to the Ames area from Chicago. What's been the nicest change?
My commute. My commute went from an hour and 15 minutes one way to 15 minutes, so my quality of life has dramatically improved as a result. I grew up in a farming community in Illinois and I've also had the big-city experience. I'm really enjoying living in the country right now, and so is my family.
You've been at Iowa State nearly a year. Do you consider yourself a Cyclone?
Absolutely. I have pride in being a Cyclone. It was palpable when I was interviewing for this position because I would meet people who obviously were Cyclones, and it was infectious. My son's wardrobe is largely cardinal and gold. From a personal standpoint, when there's a great story about Iowa State, the first thing I do is share it on my Facebook account with my family and friends. So, it's top of mind for me. This is a community of great pride. People have wonderful stories to share and I look forward to having my own wonderful stories.