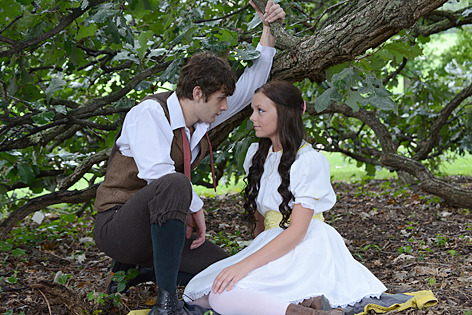 ISU Theatre celebrates its 100th anniversary this year with six shows and a gala celebration. The season opens Oct. 3, when Spring Awakening takes the stage for a two-weekend run.
The Nov. 15 gala event will feature monologues, select scenes, singing and dancing during a two-hour showcase event at Fisher Theater (7:30 p.m.). Performances will include work by students, alumni, faculty and staff. The gala is free and open to the public.
Season tickets ($96 for adults, $91 for seniors and $65 for students) are available through Oct. 12. Contact ISU Theatre (email, 4-2624) for order forms if you did not receive one earlier this month via campus mail. Single performance tickets ($18 for adults, $16 for seniors and $11 for students, unless indicated) are on sale at the Iowa State Center ticket office, through Ticketmaster or at the door prior to each performance.
Show times are 7:30 p.m. on Fridays and Saturdays, and 2 p.m. on Sundays. With the exception of the final production, On the Verge, all shows run two weekends at the Fisher Theater.
A student-directed production, not yet selected, is scheduled for March 26-29. The time and location is to be determined. The show is not included in the season ticket package.
2014-15 ISU Theatre productions
Spring Awakening
Oct. 3-5, 10-12 (Fisher Theater)
A coming-of-age tragic comedy, set in 19th century Germany, for mature audiences.
Crimes of the Heart
Oct. 31-Nov. 2, Nov. 7-9 (Fisher Theater)
A tragic comedy about a dysfunctional family in the deep South.
A Christmas Carol
Dec. 5-7, 12-14 (Fisher Theater)
Based on the Charles Dickens classic holiday tale.
Love and Honor: Iowa in the Civil War
Feb. 27-March 1, March 6-8 (Fisher Theater)
An original production by ISU Theatre chair Jane Cox, based on the experiences of Iowans who volunteered in the Union Army.
Les Misérables
April 10-12, 17-19 (Fisher Theater)
ISU Theatre and the music department will partner to stage this Tony Award-winning Broadway musical for their annual spring production. Ticket prices are $24 for adults and seniors, $16 for students.
On the Verge
April 30-May 3 (Maintenance Shop, Memorial Union)
A one-actor show that tells the story of three Victorian women and the characters they meet as they time-travel.