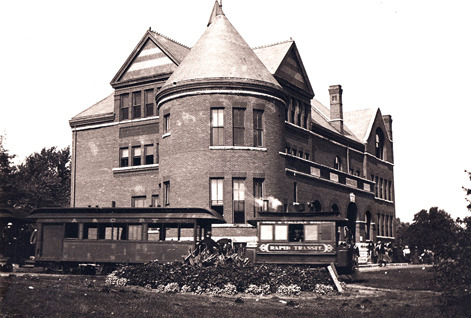 Ames' sesquicentennial celebration continues on Friday, Sept. 26, with a Dinkey Day family party in Campustown. The name is a nod to first the steam-powered train (1891-1907) and later electric trolley (1907-29) that ran between downtown Ames and campus. The Hub on central campus originated as a Dinkey station.
Dinkey Day is a free event and the public is welcome. Festivities will run from 5 to 9 p.m. in the 200 block of Welch Avenue. They include:
Live music stage at the Hunt Street intersection, bring your own lawn chairs
Activity zone that includes inflatables, games, face painting, hands-on activities, historic photo backdrop and large inflatable Cy for taking your own photos (parking lot south of Pizza Pit)
History exhibits about the city and the university
Cyclone Market, highlighting ISU student organizations (Battles BBQ parking lot)
Soda Fountain Garden with complimentary root beer and cream soda (post office parking lot)
Food vendors with items for purchase
Stage schedule
Three bands will perform at Dinkey Day, the first two of which were regulars at the former People's Bar and Grill in Campustown during the 1990s. They are:
5:15 p.m., Dazy Head Mazy


6:45 p.m., Red Wanting Blue


8:15 p.m., Home Free
If it rains, the concert will be moved indoors to the city auditorium, 515 Clark Ave.