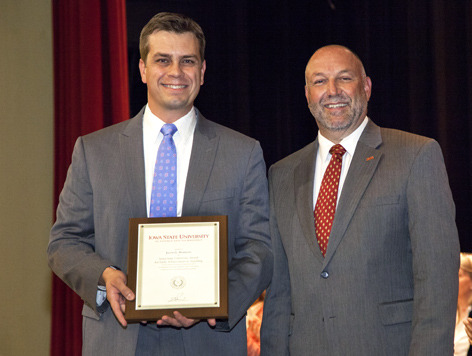 Assistant professor of music and theatre Jacob Harrison (left) was one of 46 individuals recognized during the annual university faculty and staff awards ceremony Monday afternoon, Sept. 22. He is congratulated here by President Steven Leath. Harrison and civil, construction and environmental engineering lecturer Beth Hartmann received Iowa State's Award for Early Achievement in Teaching.
Harrison serves as director of orchestral activities for the department and teaches conducting classes. The College of Liberal Arts and Sciences earlier this month named him its Jerry Shakeshaft Master Teacher in the Humanities and Social Sciences for the 2014-15 academic year.
The full list of award recipients is online. Photo by Gary Clarke.