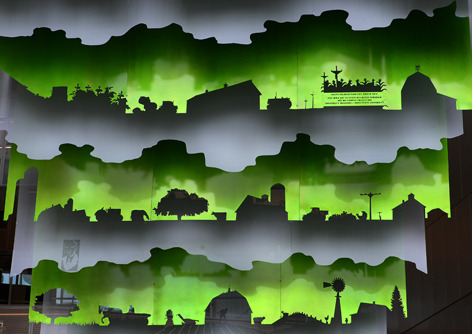 The four-story foyer in the biorenewables complex was partially filled this month with a three-story suspended sculpture, Floating World, by artist Ralph Helmick of suburban Boston.
The edges of laser-cut steel panels, painted in alternating (and contrasting) green and lavender gray, depict agricultural progress in Iowa from the mid-19th century to the present. That history is visible twice, at the top of the panels when viewed from the west (below), and at the bottom edge of the panels when viewed from the east side of the foyer (above). An end panel in each view features a campus landscape of some of Iowa State's most notable buildings. The sculpture includes six golden circles, representing the sun -- agriculture's energy source – above the panels, and seven medallions embedded in the foyer floor that depict perspectives, from planetary to molecular.
Helmick said he was inspired by both Grant Wood paintings and Japanese woodblock prints from Edo-period Japan (1600-1860).
Floating World was commissioned under the Art in State Buildings program, which reserves one-half percent of a state building's construction budget for art. The sculpture joins University Museums' Art on Campus collection. Photos by Bob Elbert.