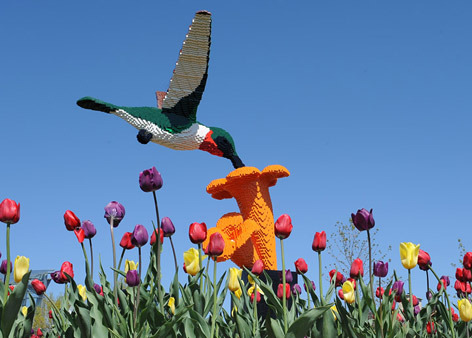 Some popular exhibits -- dinosaurs, big bugs, aliens -- have appeared at Reiman Gardens over the years. But the most popular exhibit ever was homegrown. Reiman staff's big idea -- sculptures made of LEGO bricks -- has blossomed into an entrepreneurial venture that's appearing in gardens all over the country and bringing in revenue as well.
Fifteen-year gardens director Teresa McLaughlin is so enthused about the exhibit's potential that she is stepping down from the director post to run the Nature Connects exhibit full-time. She'll be an employee of Iowa State's business and finance office, but her new position will be all about driving revenue to Reiman Gardens.
"This revenue will help with much-needed improvements at the 20-year-old gardens," she said.
"The budget I have prepared shows a $3 million gross over a five-year period with approximately $2 million going to support Reiman Gardens operations, equipment and facility upgrades," McLaughlin said. Remaining funds will support construction of the exhibits; two full-time staff members, including McLaughlin; several part-timers who install and remove exhibits; and shipping.
Gardens, zoos lining up
Prospects for the Nature Connects enterprise look good. Twelve gardens around the country, from California to Florida, have leased the exhibit, which runs through January 2017. Twelve gardens and two zoos have signed on for a second exhibit, which recently premiered at the Missouri Botanical Gardens, St. Louis, and will run through 2018. And exhibits three and four are on the drawing board.
While the content of each exhibit differs, all include LEGO sculptures and reflect a theme of sustainability, conservation and pollination, McLaughlin said.
The sculptures are created by Sean Kenney, a New York City-area artist who is one of 12 LEGO Certified Professionals in the world.
"He likes what the garden exhibits offer," McLaughlin said. "It's all about education, conservation, water resources, how you treat your soil. Gardens really are a cultural resource."
The first Nature Connects exhibit debuted at Iowa State in April 2012. Nearly 500,000 Lego bricks went into the construction of 27 sculptures. During the exhibit, Reiman Gardens admission went from 200,000 to 400,000, McLaughlin said.
"Almost every garden leasing the exhibit has doubled its admission," she added.
McLaughlin will continue serving as gardens director and working on Nature Connects projects until a new director is hired. Agriculture and Life Sciences dean Wendy Wintersteen and associate vice president Dave Miller will co-chair the search committee.
"I'm extremely grateful to Roy and Bobbi Reiman, senior vice president Warren Madden, President Steven and Janet Leath and many others for their support at Reiman Gardens. It's exciting for me to continue helping the gardens thrive while also promoting Nature Connects at public gardens all across the country," McLaughlin said.