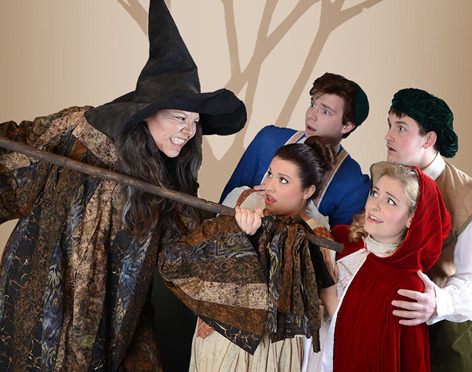 The annual Stars Over Veishea musical production opens its two-weekend run Friday at Fisher Theater. This year, the music and theater programs will perform the Tony Award-winning Broadway hit (and 2014 film release), Into the Woods.
The show blends popular fairy tales with story lines that are relevant today. Told by a narrator (senior Ethan Peterson) in storybook fashion, the tale follows the quest of a baker (junior Wes Ketcham) and his wife (senior Ashley Wiser) to break a curse that prevents them from having children.
Their journey intertwines with multiple characters along the way, including Jack (junior Kevin Barron), Cinderella (senior Grace Warren), Rapunzel (junior Kersten Tipping), Little Red Riding Hood (sophomore Grace Chermak) and the Wolf (senior Anson Woodin). Their wishes -- and the consequences of their desires -- teach valuable lessons along the way.
Tickets for Into the Woods are available through Ticketmaster and the Iowa State Center ticket office. Show times are 7:30 p.m. on Fridays and Saturdays (April 4-5 and 11-12); 2 p.m. on Sundays (April 6 and 13).