If you think Veishea is a weekend in April, think again. The preparation work on this spring's student-led celebration began more than a year ago; Veishea events kicked off in the last week with indoor and outdoor tournaments, the Stash the Trash community service day (March 29) and a preliminary round of the ISU student vocal competition, Cyclone Idol (March 31).
Here's a look at Veishea activities in the next week. Inside will preview the traditional weekend in next week's issue.
SOV
The Stars Over Veishea musical, Into the Woods, opens Friday, April 4, and includes six performances over two weekends at Fisher Theater.
Central campus cookouts
Five of Iowa State's colleges will take turns hosting an outdoor lunch Monday through Friday, April 7-11, on the central campus lawn. Your lunch ticket is a $5 2014 Veishea button, available at the lunches or through April 4 on the ground floor of the Memorial Union (11 a.m.-2 p.m., outside the West Student Office Space). The daily menu is online.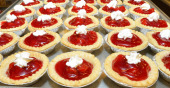 Opening ceremony
Opera singer and music department artist in residence Simon Estes will speak at the Veishea opening ceremony Tuesday, April 8 (5 p.m., MU Sun Room). Estes also will serve as the grand marshal for the Veishea parade on Saturday morning. A 4 p.m. reception precedes the program. The 2014 Veishea co-chairs, Nick Morton and Karl Kerns, will open the program. Following Estes' talk, annual student organization awards, such as student leader of the year and adviser of the year, will be presented.
Middle school guests
An estimated 100-plus middle school students from central Iowa will visit campus Wednesday, April 9, to live, for a few hours, the life of an Iowa State student. They'll attend several mini-classes, tour campus and enjoy lunch at the Veishea cookout.
Weeknight entertainment
One of the hallmarks of Veishea is plenty of quality – and free – entertainment. Our students will provide some of it during weeknight competitions in comedy, dance and singing. Here are the basics:
The annual "Veishea Says I'm Funny" standup comedy competition will be held Tuesday, April 8 (8 p.m., MU Maintenance Shop). Material is suitable for all age groups.
A dance competition has been added to this year's lineup on Wednesday, April 9 (7 p.m., MU Great Hall). Solo and group performances will be judged separately.
A dozen students will advance to the final round of Cyclone Idol on Thursday, April 10 (7 p.m., MU Great Hall). Kristian Bush, the male voice in the country music duo Sugarland, will host the show. Bush also will perform at the conclusion of Cyclone Idol, approximately 8:30 p.m.
Actor Will Ferrell's Ron Burgandy film franchise, Anchorman and Anchorman 2, will be shown outdoors atop the MU parking ramp, also on Wednesday (9 p.m.). If there's rain, the films will be shown in the MU Sun Room.
Parking lot closures for outdoor concerts
Sections of parking lots 28 (general staff) and 29 (commuter students) north of the Communications, Molecular Biology and Metals Development buildings will be closed in phases to parking permit holders later next week in order to prepare for the Live@Veishea outdoor concerts Friday and Saturday nights. Veishea committee members will put flyers on cars in the affected lots beginning Monday.
Inside will take a closer look at Veishea Friday and Saturday events in the April 10 edition. Here's a quick outline of some Veishea favorites:
Friday, April 11
7:30 a.m.-4 p.m., Cherry pie sales, Tearoom, MacKay Hall
1:30 p.m., Distinguished Awards Celebration, MU Sun Room
6 p.m.-2 a.m., Live@Veishea concert, parking lots north of Molecular Biology
Saturday, April 12
7:30 a.m. until sold out, Cherry pie sales, Tearoom, MacKay Hall
8:30-11 a.m., Pancake breakfast, central campus
9 a.m.-5 p.m., Veishea Village and STEM festival, central campus
10:30 a.m., Parade, central campus route
11 a.m.-3 p.m. Open house at College of Veterinary Medicine
2 p.m., Cyclone football intrasquad spring game, Jack Trice Stadium
6 p.m.-2 a.m., Live@Veishea concert, parking lots north of Molecular Biology