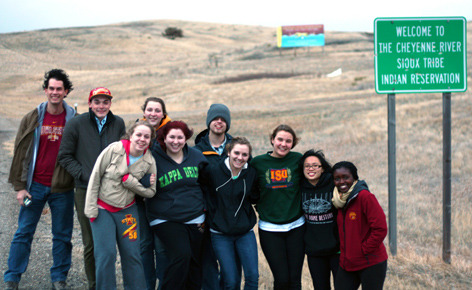 International student and computer engineering junior Romina Rivadeneira will spend her spring break with 10 other Iowa State students in one of the poorest counties in the nation, Buffalo County, South Dakota. There, they'll study and play daily with children on the Cheyenne River Indian Reservation.
The Dance Marathon veteran, who knows a little bit about children living with adversity, is looking forward to the week.
"I couldn't pass up this opportunity," she said. "It's going to be eye-opening, but I feel like we're really going to be helping these kids. What better way to spend spring break?"
In its eighth year, Iowa State's alternative breaks program is sponsoring service trips for students next week to Colorado, Georgia (two), South Carolina and South Dakota. Each group includes nine students and two student leaders. Depending on how far they're journeying, they'll head out on Saturday or Sunday and return to campus by March 22.
The Government of the Student Body supports each trip with $1,000; students pay between $100 and $200 each to help cover food costs, fuel and rent for a university van. Housing is provided.
"These are pretty inexpensive trips," said leadership service coordinator Kevin Merrill, and the students know not to expect many frills. "If it's a cot, but the shower is warm, they're OK."
Merrill said he tries to build balanced student teams that represent many aspects of the university. He said interest among students is high, typically twice as many applications as the 55 slots available for spring break.
"We get seniors applying who have used spring break as a vacation and who want to do something that matters with their last break," he said.
Following interviews and their selection in October, the teams meet weekly during spring semester to learn more about the experience ahead and develop a plan for their assignments. Merrill's staff train the student leaders, who in turn train their teams.
Sophomore TrayVon Weaver will return to Atlanta next week as an alternative break veteran and a team leader. His team will work through two local agencies to assist international refugees.
Weaver, who as a 13-year-old from Clinton completed a month-long service trip in Southeast Asia, said he's drawn to working with refugees and learning other cultures. He said he wants to help refugees, especially children, form a positive perspective of the United States.
"When you get to be a punching bag, a toy for a kid, that's an awesome time," he said. "We're superstars to them, we're role models."
And, on his graduation day, Weaver said he wants to look back and know that he "did more in college than go out and have a crazy time."
"It's important to put others before yourself," he said.
In early April, the five spring and two winter alternative break teams will attend a reorientation, a show-and-tell of sorts. Merrill said an important goal of the program is that the students learn how to talk about their experiences.
The five service sites
Wellington, Colo.: Harvest Farm, an addiction recovery working farm for men. Students work alongside the men at the farm and learn about their lives. The week includes a guided day in Denver to see and understand the kinds of situations the men came from.
Atlanta: City of Refuge and Refugee Resettlement and Immigration Services of Atlanta. Students help new international refugees transition, including setting up apartments, working in a community garden, assisting with large group meals and leading activities for children.
Rising Fawn, Ga.: Cloudland Canyon State Park. Students work on trail repair and other outdoor maintenance projects to prepare the park for spring opening.
Spartanburg, S.C.: Christmas in Action. Students assist with repair and maintenance projects on the homes of elderly and disabled residents.
Eagle Butte, S.D.: Cheyenne River Youth Project. Students plan and organize after-school activities for Native American children on a reservation and assist with other projects.