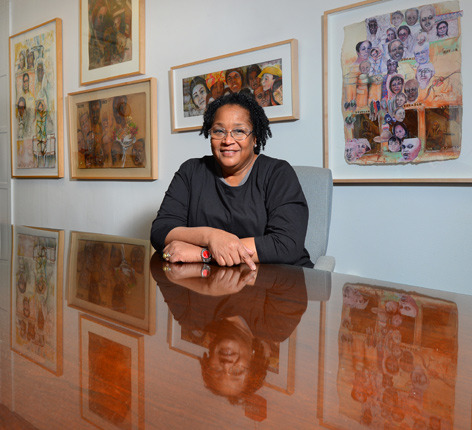 Nothing sets the stage for the annual Iowa State Conference on Race and Ethnicity (ISCORE) like a Brenda Jones painting. Jones, associate professor in integrated studio arts, has been setting the stage for 15 years, providing art for the conference's promotional posters. Her striking paintings, dominated by faces -- brown, black and white -- have become a fitting symbol of the event that promotes understanding across races and ethnicities.
Senior vice president for student affairs Tom Hill brought the first ISCORE conference to campus in 2000. Based on the National Conference on Race and Ethnicity, ISCORE features a series of sessions led by faculty, staff and students.
When Hill asked Jones to create a painting for the first conference, she was happy to oblige.
"I knew what he was trying to do, bringing this conference to Iowa State," she said. "Dr. Hill was saying to students, 'You have people here who really care about you. It doesn't matter if you're white, Hispanic or Native American.'"
Jones found inspiration for her ISCORE paintings from a variety of individuals -- icons like George Washington Carver, contemporaries at Iowa State, "incredible people" she met on her travels. She does plenty of traveling. She lives in Rome almost half the year, teaching students in the College of Design's international program. Many of the ISCORE paintings were created in Rome and shipped back to Iowa State, where they were assembled and printed as posters.
Jones' original works now line the student affairs conference room and offices.
Japannah Kellogg, a student support services coordinator who's worked on the ISCORE program for many years, notes that Jones has supported ISCORE events in more ways that artistry.
"When she was able, she was right there at the conference with the students, bringing a unique perspective," he said. "She's done it all as a favor to the project."
In recognition of her work, ISCORE developed the Brenda Jones Change Agent Award, given annually to an ISCORE student alumnus.
"This is what I have to give back," Jones said of her ISCORE work and teaching in general. "Everybody should feel obligated to give something back."