Your 2 cents
The design concepts will be available for comments on the project website March 6-9.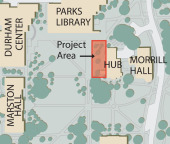 A team from Ames-based Bolton and Menk Inc. will hold an open house on Thursday, March 6, to gather feedback about design concepts for the Hub's west patio area. The space will get a $125,000 makeover this summer.
Two to three design concepts will be on display in the current outdoor patio area during the open house (9 a.m.-noon). The campus community is invited to stop by to view the plans and give feedback during the open house, or visit the project website March 6-9 to submit comments. The event will move indoors to Parks Library if the weather is a problem.
Chris Strawhacker, landscape architect in facilities planning and management, said the existing patio pavement, retaining wall, lawn berm and seating will be removed to create a larger space.
"This project will renovate the outdoor seating area with the construction of a new paved plaza, seating and landscaping," he said.
Construction is slated to begin in May and wrap up in August.