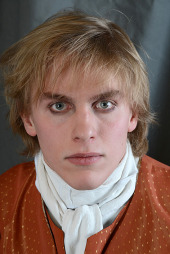 Fiction based in history is the backdrop for ISU Theatre's production of Amadeus, which highlights a perceived rivalry between music composers Antonio Salieri and Wolfgang Amadeus Mozart. The drama begins its two-weekend run at Fisher Theater Feb. 28.
Genius and envy are the driving forces behind the Academy and Tony award-winning work by Peter Shaffer. Salieri, who will never be anything more than average as a composer despite sacrificing everything, is affronted by the effortless genius of the boorish Mozart. Although he admires the transcendent quality in Mozart's music, Salieri's jealousy spills over into rage and a tragic result.
Juniors Christopher Priebe (Salieri) and Mason Tyer (Mozart) headline an 18-member cast. Theatre program director and professor Jane Cox is the stage director.
Tickets are $17 ($15 for seniors, $9 for students) and are available at the Stephens Auditorium ticket office, through Ticketmaster and at the door. Friday and Saturday show times are 7:30 p.m.; Sunday matinees begin at 2 p.m.