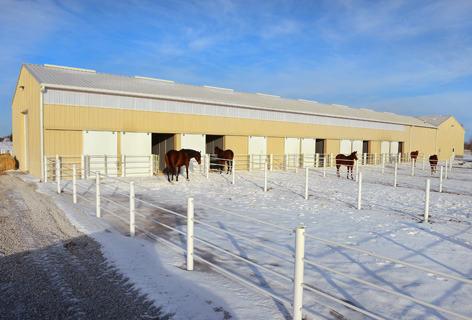 As residents moved in to the just-opened apartment buildings in Fredericksen Court this semester, the former land tenants were preparing for a move to the southeast edge of campus. Just over a dozen of the university's horses took up residence in the newly constructed Equine Learning Center last week.
The facility will be used primarily for the animal science department's equine teaching program. It is located on the south side of Mortensen Road, west of the Ames/ISU Ice Arena and Hansen Agricultural Student Learning Center.
The 12,700-square-foot facility, which features 23 regular stalls and two isolation stalls, sits on a land parcel that includes about 65 acres of pasture for summer and fall grazing. An office, tack room and breeding lab should be completed by summer.
"When the breeding lab is complete, some of the reproduction classes may meet at the new facility," said horse farm manager Nikki Ferwerda. "Due to its close proximity to the new Hansen Agriculture Student Learning Center, horses used in classes can be easily moved from their stalls or the pasture to the new arena for many animal science classes."
Campus darlings
Birth announcements
Photos of the newborns are posted on the ISU Horse Barn's Facebook page. For more information about the equine program, including breeding and purchasing horses at ISU, contact Nikki Ferwerda (4-7669, nikkif@iastate.edu).
The new equine center does not mean the demise of the historic horse barns, which offer 17 stalls, three sheltered pens and five outdoor exercise pens on the north part of campus. Horses will be moved between the two facilities regularly and classes will be held at both locations. And, yes, the foals still will be born in the climate-controlled foaling stalls at the corner of Pammel and Stange roads.
Ferwerda said the university herd currently has an even mix of thoroughbreds and quarter horses, including 20 broodmares, three stallions and 10 yearlings. Three foals have been born so far, with another 16 expected through May.