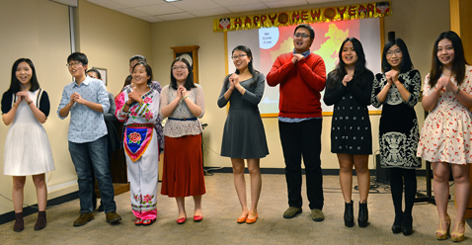 Chinese graduate students in the Greenlee School of Journalism and Communication took time off from academics Feb. 7 to celebrate their most important holiday -- the Chinese Spring Festival. The Hamilton Hall celebration welcomed the Year of the Horse, which began Jan. 31, and included song, dance, poetry, games and hands-on cooking.
Michael Bugeja, director of the Greenlee School, initiated the first celebration in 2011.
"We celebrate Chinese New Year for a variety of reasons: To remind our international students that they have a temporary home here in Hamilton Hall, but also to expose all of our students to one of the world's richest traditions, the various customs, arts, foods and festivities of this most important holiday," he said.
There are 50 graduate students currently enrolled in the Greenlee School, and more than half come from China. Photo by Bob Elbert.