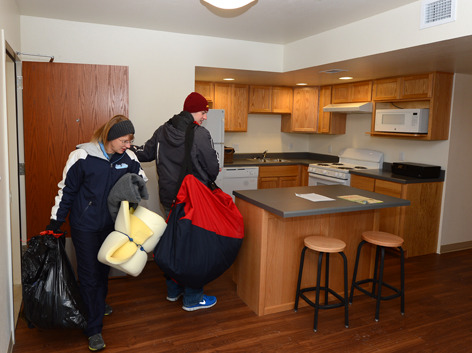 Two more buildings in the Fredericksen Court apartment complex are open, adding living space for 240 additional residents. Students began moving in Wednesday, Jan. 8.
Three apartment buildings opened in August and November, and another will be completed this month for use next fall. The six new buildings add 720 beds to the inventory of the Department of Residence complex, affectionately known as Freddy Court.
Students are coming to the new buildings from across the residence system, including other apartments and residence halls. By the start of the spring semester, hall dens that were converted to living quarters will return to use as community spaces.
With its six additions, the complex boasts 29 total apartment buildings. That translates into 688 units and 2,712 beds. Students must be at least 19 years old or in their second year at Iowa State to live in campus apartments.
A new parking area was built on the east side of Haber Road for residents, adding 540 spaces (Lot 112). The parking project included storm water management features and outdoor classroom opportunities in the former pasture area. In all, there are 2,034 parking spots for Fredericksen Court -- enough to accommodate 75 percent of residents. Photo by Bob Elbert.