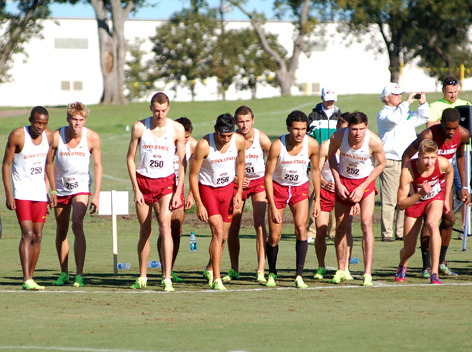 Iowa State's cross country course will serve as the site for the 2013 NCAA Midwest Regional Cross Country Championships on Friday, Nov. 15. The men's 10,000-meter race begins at noon, and the women's 6,000 meter race starts at 1:15 p.m. The event is free and open to the public.
Iowa State is one of 11 schools with both teams ranked among the top 25 nationally in the latest coaches poll. The Cyclone women are the three-time defending Midwest Regional champions and rank seventh after capturing their third consecutive Big 12 Conference title. The men's squad (pictured above at the Big 12 meet starting line) jumped to No. 24 after a runner-up finish at the conference championships.
Qualifying teams and individuals from 33 teams in 13 conferences will participate in the regional meet. The top two teams (and top four finishers not on a national qualifying team) advance to the NCAA Championships on Nov. 23 in Terre Haute, Ind. At-large teams and individuals also are selected following the regional meets. Photo courtesy of athletics communications.