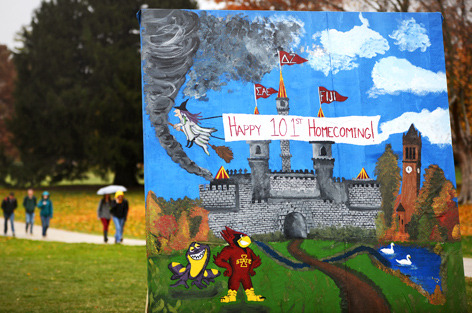 Homecoming Week events kick into high gear Friday with the alumni association's annual honors and awards ceremony (1:30 p.m., Scheman Building), open house (5-9 p.m., Alumni Center) and pep rally (7 p.m., Alumni Center) featuring Yell Like Hell finals and appearances by Cyclone student-athletes. Parade through the Greek neighborhood south of campus (8-9 p.m.) to look at student-constructed lawn displays, then head to central campus for pancakes (10 p.m.-1 a.m., $3) and a little campaniling -- complete with fireworks -- at midnight.
Saturday's events include a pregame tailgate (8-10:30 a.m., Alumni Center) and several athletic contests: football vs. Texas Christian University at 11 a.m. (Jack Trice Stadium), volleyball vs. Oklahoma at 5 p.m. (Hilton Coliseum), and men's hockey vs. Robert Morris University at 7:30 p.m. (Ames/ISU Ice Arena).
Pictured is one of the student Homecoming banners adorning central campus this week. Photo by Amy Vinchattle.