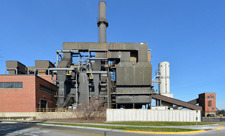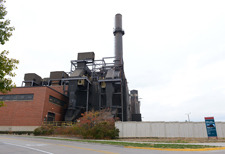 Work is progressing on the power plant's boiler project, which calls for replacing three of the university's five coal-powered boilers with natural gas versions. The remaining two coal boilers will be modified with an air-pollution control system.
The $38 million project was approved by the state Board of Regents in December 2012 in anticipation of new U.S. Environmental Protection Agency (EPA) emissions regulations. The deadline to comply with the new rules is January 2016.
Project scope
Earlier this spring, two older coal-powered boilers were converted to natural gas to allow the university to use them during the remainder of the construction project. The fifth older boiler was retired. Demolition of those boilers' coal and ash equipment began in August and will wrap up later this fall.
Demolition of two retired boilers in the power plant also is under way, and should be completed in February 2014. The demolition will create space for a 19,000-square-foot building addition to house three new gas boilers. This phase of the project should be completed by late fall 2015. The new boilers are scheduled to be up and running by fall 2015, ahead of the January 2016 EPA deadline.
Cleaner air
The new boilers will reduce the amount of coal burned at the power plant by about one-third, or 48,000 tons annually. The boilers also will reduce emissions of several gases, including sulfur dioxide (85 percent), particulate emissions (78 percent), nitrogen oxide (67 percent) and carbon dioxide (15 percent).