Editor's note: Iowa State University no longer uses Aastra telephone products. Information about current phone hardware is in IT portal's voice and conferencing services.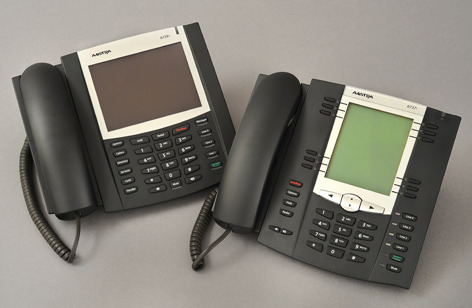 Most of the new phones installed on campus over the summer came with the same basic screen setup -- voice mail, call pickup, DND (do not disturb) and a several slots for speed dialing and other tasks.
However, you needn't stick with the screen you're using now. Information technology services (ITS) developed a number of screen setups, technically, called "softkey templates." These templates determine how many slots on your phone are available for:
Speed dialing and other assigned tasks, such as one-press call transfers to voice mail
Busy lamp fields. BLFs are basically speed dial buttons that light up to show when a number is busy. They can only be used for on-campus Aastra telephone numbers.
Call-in lines. One-, two-, three- or four-line options are available. A two-line phone, for example, can receive incoming calls to an individual's number and the unit's toll-free number or bridged number.
How to switch templates
Here's how to change the softkey template on your phone:
Go to ITS' phone how-to page and click "change your telephone's softkey template"
Review the template guides for your phone -- Aastra 6737i (PDF) or Aastra 6739i (PDF) and select one. If you have an Aastra 6737i phone, it likely already has the Basic D template, which includes an almost equal mix of BLFs and free keys along with two phone lines.
If you have speed dials on your phone, write them down; you'll need to reenter them on the new softkey template. BLFs will automatically update to the new template.
Submit an online telephone template request, available on the same site
Watch for an email from ITS, providing instructions on restarting your phone and applying the new template