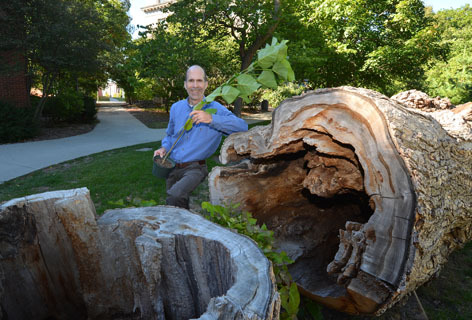 A program launched this fall will make it possible to bring home a piece of campus history -- literally. Bill Graves, horticulture professor and associate dean in the Graduate College, is guiding a project aimed at preserving and sharing the historic trees that define Iowa State's award-winning campus landscape.
"We're well aware of the fact that a lot of the trees on campus that were planted in the 1800s, after the campus was founded, are reaching maturity," Graves said. "Instead of just removing those in declining health, we had this idea of trying to propagate them to generate progeny that can be planted to maintain the same genetic heritage on campus."
Northern catalpa
Catalpa speciosa
Height: 70 feet
Width: 50 feet
USDA zones: 4B-8
Identifiers: Large, heart-shaped leaves with clusters of white flowers in June. Rapid grower, but somewhat weak-wooded.
Order: Online or at the Alumni Center.
Cultivating a catalpa
After years of structural decline, a nearly century-old catalpa tree on the east side of Pearson Hall was scheduled for removal this spring. With the help of the grounds staff from facilities planning and management, Graves and his coworkers collected and planted seeds from the tree before its removal.
Now a bumper crop of 500 to 600 seedlings, each measuring 3 to 4 feet tall, is ready to be planted. Graves said he is partnering with the ISU Alumni Association to sell the trees to anyone interested in owning a piece of campus heritage. Seedlings are available individually ($30) or in bulk ($25 each for two to four seedlings, $20 each for five or more) and can be purchased online or at the Alumni Center. Shipping is $20; there is no charge for pick-up in Ames.
"This is the beginning of what we hope is a much bigger project," Graves said. "What we envision is having an annual event in the fall -- in cooperation with the horticulture club and possibly other student groups -- and offer for sale the progeny of trees that are historical on campus or particularly significant in our tree collection."
Sustainable program
Graves said proceeds from the seedling sales will be invested in the program, as is a gift from the Bob and Eileen Martin family.
"Even before we worked on this catalpa project, [the Martins] were working on making a donation to the foundation to start a heritage tree fund," Graves said. "With the timing and the support and cooperation from FPM campus services staff, everything came together this year. We're calling this our inaugural year of this effort."
About 50 of the catalpa seedlings will be kept in the campus nursery. These and progeny from other species will be used in future landscaping projects, returning the genetic legacy of historic trees to the campus landscape. Beginning as early as this weekend, Graves plans to gather seeds from several more tree species.
Tracking the trees
A website is being developed to show where the catalpa seedlings are planted. Customers will be able to register their trees and planting sites and see a map of where trees have been established.