There's this idyllic notion that the pace of a university campus slows during the summer.
Then there's reality.
For many Iowa State departments, summer is among the busiest times of the year. Add to that a record incoming freshman class and an estimated overall enrollment of approximately 32,000, and it's been all hands on deck to prepare for fall. Fall 2013 will mark Iowa State's fifth year of record enrollment and seventh consecutive year of growth. (The official enrollment count is taken on the 10th day of classes, and will be released publicly on Sept. 11, pending state Board of Regents approval.)
Here's a look at just some of the work under way to prepare for the students' arrival in three weeks:
Room scheduling
"This has been the smoothest orientation I've experienced," said Katie Baumgarn, coordinator of instructional facilities and the pro who schedules use of Iowa State's 214 general classrooms – only 4 percent of the university's total building space.
Did you know?
67 percent of Iowa State classes have 29 or fewer students
The mean class section size is 33 students
4,524 class sections are scheduled for fall 2013, an increase of 291 sections from fall 2012 and 442 sections from fall 2011
89 percent of student credit hours are taught by faculty
Student/faculty ratio is approximately 18:1
*Sources: Office of the Registrar, Institutional Research
"A core group looked at highest-demand undergraduate courses in English, physics, biology, math and chemistry over the past three years to project how many sections of each course will be needed for this year," she said. "We made sure we had enough sections on the books so there are classes for everybody, and in a few cases departments actually decreased the class size due to recommended pedagogical practices. Some also created various sizes of classes to not only meet the course demand, but also assist with classroom availability."
More classes means rooms are full for longer periods of time – particularly some laboratory classes, which can begin as early as 7 a.m. and end as late as 10 p.m.
There is enough space, she added, but it can be used more creatively and efficiently.
"We have some departments that are very, very good about talking to us during the planning process," Baumgarn said. She encourages others to do the same for more successful scheduling of their courses.
Baumgarn has the unique perspective of seeing the whole jigsaw puzzle when others may have only a piece or two. Her advice?
"A large class of 250 taught only on Mondays at 10 a.m. takes out an entire auditorium on Wednesdays and Fridays, too. We are attempting to join one-day offerings to optimize classroom resources, as well as accommodate more courses."
"The greatest demand for offering courses is between 9 a.m. and 2 p.m. If more departments would consider classes at 8 a.m. , 3:10 p.m. or 4:10 p.m., it would alleviate pressure on the big rooms."
Classroom space is at a premium this fall, partly because the university has increased the number of class sections to accommodate more students and maintain desired section size.
Department of residence
The department of residence turns every room, every summer – a herculean effort that requires moving furniture, painting, repairing, and putting all those chairs, desks and beds back in place. As needed, buildings receive updated bathrooms, new safety features, windows, window treatments, furniture and carpeting. Every space is thoroughly cleaned to welcome students returning to campus and fresh faces who will see their new home for the first time.
Among students who choose university housing, the residence department is seeing nearly 8 percent more returners and 12.5 percent more freshman housing contracts over the previous year. Every space is full, said residence director Pete Englin. He and his staff expect to welcome more than 11,300 student residents – about 900 more than last fall.
"With the addition of 503 off-campus leases in Legacy Tower (Campustown) and Maricopa (West Ames), and 240 new Frederiksen Court beds, plus every possible space – including dens – we are doing our very best to serve students," Englin said. "The communities we manage on and off campus will be fully staffed, creating a supportive environment that will help students to succeed. We're ready."
Two of the new Frederiksen Court apartment buildings will be ready this fall; the remaining four are projected to be completed by spring 2014, for a total of 720 additional spaces. Last year, all students were moved out of dens and relocated to permanent housing by the spring. That's the plan again for spring 2014, Englin said.
In the meantime, residence staff have continued to look for creative ways to manage supply and demand. Returning students were offered a $1,000 incentive to change their fall housing assignment from a residence hall room to a campus apartment community, freeing up more traditional housing for freshmen. Ninety-five students accepted.
All new (direct from high school) freshmen who want to live on campus have been guaranteed a spot, said Lisa Ludovico, assistant director for residence administrative services. Due to unprecedented demand, returning and transfer students who completed contracts late (after May 1) will not be able to live in university housing. About 100 students who had been waiting for a room assignment will be provided $500 compensation for their inconvenience. Residence staff members also are working to help those affected find off-campus housing and connect with potential roommates.
ISU Dining
Not only are there 20 residential dining and retail venues on campus, but ISU Dining also is working this fall to help students understand the many ways in which they can use their meal plans and Dining Dollar$, said Nancy Keller, director of ISU Dining.
"Many ISU Dining locations get busy right around noon. We encourage customers to consider dining at other times, or in other locations, that work within their schedules," she said. In addition:
Union Drive Marketplace and Conversations (in Oak-Elm) offer continuous service during the week. "They are open all afternoon for our students' convenience," Keller added.
Meal bundles (an entrée, three sides and a drink) are available everyday (to students with meal plans) for breakfast, lunch and dinner.
Food from Clyde's Sports Club and Hawthorn Market and Café may be ordered online.
Students can get a hot dining center meal to go and enjoy it wherever they choose.
Have allergies? Vegan? Gone gluten-free? ISU Dining accommodates special dietary needs, too.
New this fall:
Global Café, a kiosk in Curtiss Hall offering grab-and-go sandwiches, salads, desserts, sides and beverages.
The Grill, a seasonal cart operating outside Union Drive Community Center during weekday lunch hours. The menu's been retooled for quicker service. It will be open into October, weather permitting.
More options at the Memorial Union Market & Café – a Mediterranean-style lunch service and a rice/noodle bowl concept, Hibachi-San, from Panda Express.
In addition to ISU Dining's offerings, the university has added a street vendor, Finley's, near Kildee Hall on the northeast side of campus. The truck serves hot food weekdays 11 a.m. to 2 p.m. and accepts cash and debit card payments.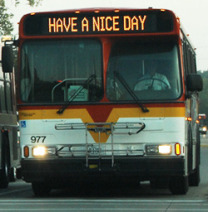 CyRide
CyRide's got a formula for planning ahead, said transit director Sheri Kyras.
"Every student enrolled equals 170 rides," Kyras said.
This is an average, meaning for every student who doesn't use CyRide, there are others who ride the bus frequently. CyRide transports as many as 37,000 passengers per day and about 6 million passengers per year; peak months are January through March.
Students ride fare-free wherever CyRide travels in Ames. The fare is paid through their student fees; other support comes from the City of Ames, ISU administration, the department of public safety and state and federal funding.
CyRide will add 10 extra hours of service during the week and hire 30 new drivers this summer to accommodate demand over the next academic year, Kyras said. Four more buses will be called into service from CyRide's contingency fleet, which she characterizes as "better, older buses."
Kyras said she'll ask the CyRide board of trustees to look at funding more used buses for fall 2015. It takes 12 to 18 months to acquire and refurbish a used bus, and more than 18 months to obtain a new bus. "Bus prices have gone up dramatically," she added. "It's not a fast process."
Parking division
Manager Mark Miller said there is more than enough parking space to accommodate the expected increase in students this fall. Approximately 7,000 student cars are issued parking permits every academic year. Parking stalls are readily available at Jack Trice Stadium and near the Towers; they are more limited elsewhere.
No matter how campus changes over the years, some things remain constant: Everybody wants rock-star parking. Reality usually dictates otherwise.
"We have enough spaces – it's just a matter of where everybody wants to be," Miller said.
Commuters may park in designated lots at the Iowa State Center for free (not overnight) and take CyRide's Orange Route to campus. Students who bring a vehicle and want to park at Jack Trice Stadium will pay $91 per academic year for a permit there – the lowest among Big 12 Conference schools, Miller said. Parking near the Towers runs $131 per year.
Those fees help to fund DPS' safety escort service, the Help Van, CyRide's orange route, parking lot maintenance and snow removal, among other vital services.