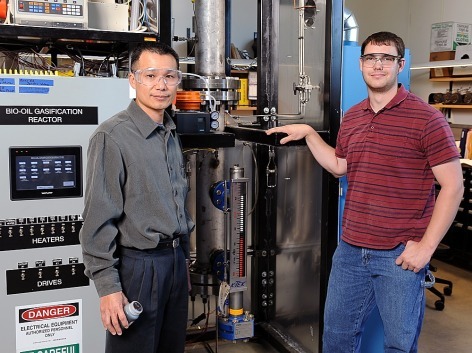 External funding at Iowa State University dropped to $326.4 million in fiscal year 2013 from the previous fiscal year's total of $360.2 million, a decrease of $33.8 million or 9.37 percent. Total external funding in the previous fiscal year was the second highest level on record.
Much of the decrease in funding is attributable to the federal sequester, the across-the-board cuts mandated by 2011 legislation and triggered when budget negotiations failed in Congress. The Association of Public and Land Grant Universities estimated that sequestration would mean $10 billion less in government support for research and development in FY2013 alone and $90 billion less through FY2021.
Total federal funding at Iowa State is down a little more than 17 percent over last year's total, ending at $172.7 million. University leaders say a portion of federal funding was simply delayed by the sequester, particularly funding from the Department of Agriculture, and they expect to see more transfers by the end of the federal fiscal year ending Sept. 30.
Despite ongoing challenges in securing federal funding, Iowa State University President Steven Leath said the university continues its exceptional record in competing for grants, contracts, gifts and other sources of sponsored funding.
Five straight years of $300-million-plus
"Iowa State has attracted over $300 million annually in external support over the past five consecutive years," said Leath. "That we have continued to attract outside funding at this level despite the difficulties associated with the sequester shows how successful we are at building upon our core strengths and leveraging investments in our research and scholarship."
The external funding, which comes from federal, state and local government sources as well as from private corporations, foundations and other universities, is in addition to the state appropriation that supports daily university operations.
Total non-federal external funding was up this year by 1.45 percent, at $153.7 million, with contributions from foundations and associations increasing by almost 13 percent over last year's level.
Of the $326.4 million total, $193.8 million was the result of successful research proposals submitted by Iowa State faculty and scientific staff.
The external funding supports student financial aid, research, education and extension programs.
"Every dollar we receive from external funding supports our mission of providing high-quality education, applying research and extending knowledge to strengthen Iowa's economy," said David Oliver, interim vice president for research and economic development. "We rely on these dollars to continue our commitment to preparing outstanding students, supporting our scientists in their pursuit of basic research and invention and growing the economy of our state and nation."