Editor's note: Iowa State University no longer uses Aastra telephone products. Information about current phone hardware is in IT portal's voice and conferencing services.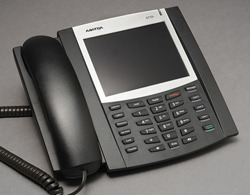 Set up speed dial
To create a speed dial, press the "options" button and then the "softkeys" softkey
Scroll to the "speed dial" softkey and press
Inside the speed dial form:

Press inside the "label" text box and use the keyboard to type a name
Press inside the "value" text box and type phone number ( no hyphens, parentheses or spaces); You can enter the last five digits for campus phones (4XXXX); include area code for off-campus numbers (515XXXXXXX).
Press "save" softkey and "goodbye" key
To speed dial:
Find the appropriate softkey; you may need to press the "more" softkey (key with two dots)
Press the softkey to make the call
To edit:
Press the "options" button
Press the "softkeys" softkey
Scroll to the appropriate entry and press that softkey
Make edits and press "save"
To delete entry, you'll need to delete contents of both text boxes and press "save"
Call pickup
Call pickup allows you to use your own phone to answer the ringing phone of a colleague. The colleague must be in your call pickup group. That group generally is set up several days after the installation of your new phone. Here's how to pick up a neighbor's call:
Press the "call pickup" softkey on your phone's screen
If you want to know who's in your call pickup group, sign on to the web portal (phone.iastate.edu) and go to "call control," then "call pickup."
Incoming calls ring simultaneously on one (or more) phones
On occasion, you may want your incoming calls to ring not only to your office phone, but on one or more other phones. This feature is easy to set up, and easy to turn on or off as needed.
If you haven't done so, set up your portal
Go to phone.iastate.edu and sign in
In the left navigation, click "incoming calls"
Under the "advanced" column, click "simultaneous ring personal"
Add numbers of other phones that will simultaneously ring (don't check the "answer confirmation required")
After "simultaneous ring personal," click the "on" button
Click the "OK" or "apply" button
NOTE: If you don't pick up any of your ringing phones in time, the phone with the speediest voice mail will collect your message.