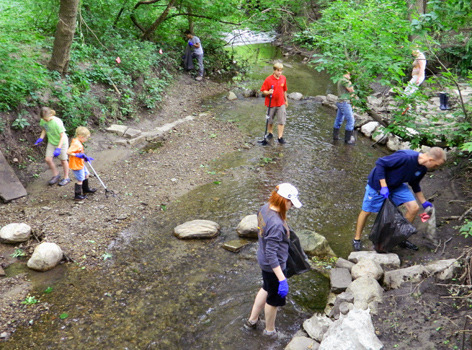 Fifty-five volunteers participated in the fifth annual College Creek cleanup on June 29. They removed more than 200 pounds of trash, mostly plastic bags and food and beverage containers, from the portion of the creek that runs through campus -- from University Boulevard on the east side to Lincoln Way, passing by the Lied Recreation Center, Forker Building, east parking deck and The Knoll.
In addition to cleaning the creek bed and banks, volunteers helped Recreation Services staff empty more than 2,000 sandbags used for flood protection this spring at the Lied center. The sandbags, which never were contaminated by floodwater, no longer are needed by the university.
With assistance from the Iowa Department of Natural Resources' Waste Exchange Program, about 10,000 empty sandbags have been placed with communities across the state for their flood prevention efforts. The sand is being reused for ISU projects. Submitted photo.