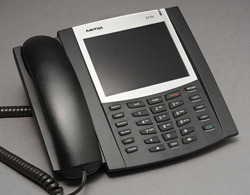 View callers list
The "callers list" stores up to 200 incoming calls. To access the list:
Press the "callers" key on the front panel
Press the ▲ ▼ softkeys on the screen to view callers
You'll have options to dial callers, post callers to your directory or delete calls
Change ringtone
At present, only five ring tones and a silent mode are available on the phone. To change your ring tone:
Press "options" key
Press "audio" on the touchscreen
Press the button next to "ring tone"
Scroll tones and select one (NOTE: If tones aren't yet ringing as you scroll through, listen to tones here)
Press the "goodbye" key to exit the menu
Initiate a conference call
The 6739i supports up to three parties in a conference call.
To add a third party to a pre-existing phone conversation:
Press the "conf" softkey
Dial the number of the third party or press line # key if third party is holding
Once the third party connects, press "conf" softkey to connect everyone
To cancel while the third party's phone is ringing:
Press "cancel" softkey
Reconnect to second party by pressing the (lit) line key or the "hold" softkey
If third party answers, but can't join in:
Press "drop" softkey
You'll automatically be reconnected with second party
To drop a party from an active conference:
Use up or down arrow to point to the party to be dropped
Press "drop" softkey
Other parties will remain connected
If you want to leave the conference:
Press the "leave" softkey
The other parties will remain connected