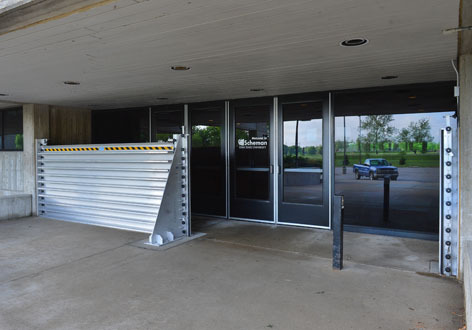 As river levels continued to rise last week and the forecast called for additional rain, flood gates were installed at the Scheman Building, Hilton Coliseum and the Maple-Willow-Larch residence halls. Equipment also was relocated at Veenker Memorial Golf Course and the Lied Recreation Center was closed (twice) for sandbagging work.
The projected rains diminished and the flood warnings were allowed to expire, but university officials were able to use the threat to evaluate their preparations in real time.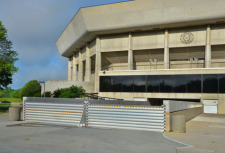 "We do a practice drill every spring, but this is the first time we truly used the flood gates," said Dave Miller, associate vice president for facilities. "The time to put the panels in place is probably 80 percent less time than the time it would take to sandbag. That's a real blessing, given the quick up and down of Squaw Creek."
The university remained open and activities continued as scheduled throughout the preparations. Some of the flood gates still are in place, Miller said, and the sandbags remain on standby at the Lied Center.
"They will stay up until the current threat is passed or until building activity levels and occupancy necessitates having more building exits available for egress," Miller said.