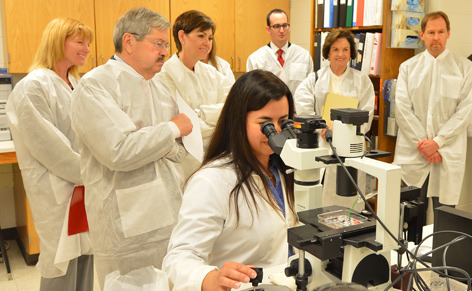 Iowa Gov. Terry Branstad stopped by the College of Veterinary Medicine to tour facilities and proclaim 2013 the Year of the Veterinarian.
ISU's College of Veterinary Medicine is the oldest public veterinary school in the nation. Since its creation in 1879, it has produced more than 7,000 veterinarians. The gubernatorial proclamation recognizes Iowa's veterinarians for their contributions to animal and human health.
Among those joining Branstad on a tour of the small and large animal hospitals and the Veterinary Diagnostic Lab were Lt. Gov. Kim Reynolds, president Steven Leath, senior vice president and provost Jonathan Wickert, dean of the Veterinary Medicine college Lisa Nolan, and president of the Iowa Veterinary Medical Association Jodie Pettit.