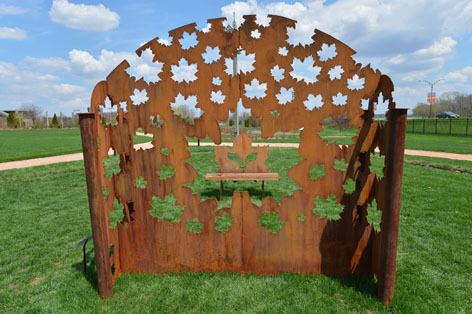 It's all about Iowa at Reiman Gardens, expressed through art, plants, displays and events planned for the "More than Meets the Iowa" theme year that runs through December.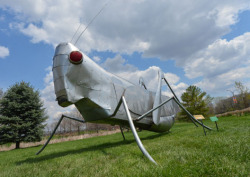 An assortment of 13 garden-inspired sculptures, created by artists with ties to Iowa, are scattered throughout the grounds. The art pieces are made from a variety of materials, including metals, wood and plaster.
In addition to the sculptures, the Iowa theme is woven into several displays, including the:
conservatory (Winds of Change, Balloons All Around and Our Holiday Heritage)
Garden Room (Iowa's Main Streets)
butterfly wing (Jewel of Iowa)
campanile garden (Diversity in Bloom and Landscapes of Grant Wood)
Stafford Garden (Iowa's Prairie Heritage)
home production garden (Save Our Seeds)
herb garden (Herbs Rock)
children's garden (Blue Ribbon Garden)
south field, Dunlap Courtyard (RAGBRAI)
trial garden (Flower Caucus)
Gardens admission is free for ISU students, members and active duty military personnel; $8 for adults, $7 for seniors and $4 for youth. Beginning Memorial Day, extended summer hours go into effect, 9 a.m. to 6 p.m. daily (butterfly wing closes at 4:30 p.m.). Photos by Bob Elbert.