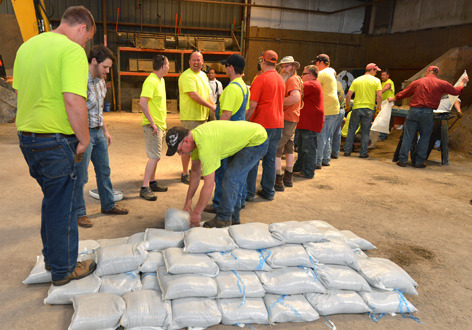 About 50 Iowa State employees, representing primarily the facilities, planning and management; recreation services; and environmental health and safety units, received training in filling and stacking sandbags during a first-of-its-kind event on April 30. The intent is to have knowledgeable employees who could lead volunteers if another flood were to hit campus.
The training was organized by FPM's facilities services division, with instruction provided by the pros: Keith Morgan, coordinator of Story County's Emergency Management Agency; and Ron Matthews from Central Iowa RSVP's Volunteer Management for Disasters Program.
Did you know a "full" sandbag actually should be one-third to one-half full? That a sandbag wall should be constructed 6-8 feet from the building it's protecting? Learn more in this News Service video. Photo by Bob Elbert.