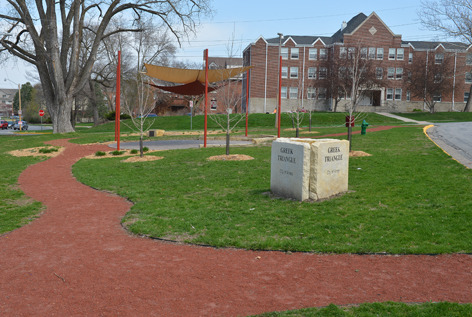 A cooperative town-gown effort culminated in the transformation of a traffic island into a beautiful park space for students and community members.
The Greek Triangle project improved green space at the intersection of Sunset Drive and Pearson Avenue (east of Ash Avenue), right in the heart of ISU's Greek neighborhood. The site -- designed by the Student Society of Landscape Architects -- now features crushed red brick pathways, perennial landscaping and a central patio area ringed by limestone seating and shaded by rich red and gold canvas tarps.
The project was two years in the making and dedicated at a ribbon-cutting event last month. It received funding from the city's neighborhood improvement program and was supported by the Office of Student Affairs, Government of the Student Body, Greek Alumni Alliance and Greek community. Photo by Bob Elbert.