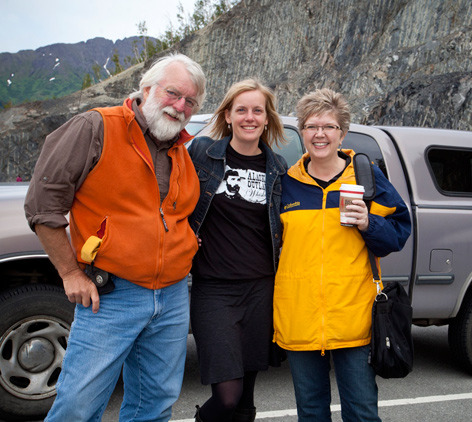 In the past year and a half, VISIONS magazine editor Carole Gieseke and Des Moines photographer Jim Heemstra have been on a mission: To meet, interview and photograph Iowa State alumni in every state and the District of Columbia. To that end, they've logged 17,341 miles in 10 rental cars and boarded 26 planes, two boats and one hot air balloon.
They've also gotten to know more than 80 alumni, from an embryologist in Texas to a CIA officer turned antiquarian book dealer in Vermont. And there are 19 states to go. They'll hit those states in a series of road trips in the coming months, concluding their travels by fall.
The basics
Name: Carole Gieseke
Position: Chief communications officer and VISIONS editor, Alumni Association
Years at ISU: 16
Follow Gieseke and Heemstra's road adventures in the VISIONS Across America blog. Special features about alumni they've met along the way will appear in an expanded edition of VISIONS sent to all alumni association members in spring 2014. The special issue also will be available for purchase.
How did you hatch the idea for a 50-state alumni visit?
During a drive back from an assignment, Jim and I were brainstorming about stories we would love to do. It was pie-in-the-sky stuff and this was one of the ideas. We sort of laughed. All 50 states, ha ha. We wouldn't have time. We could never afford it. But then we started fixating on it. I talked to [alumni association president] Jeff Johnson and he said, "Put together a business plan." And so I did, and we fund-raised to cover additional expenses and it happened.
Carole's list
Best food: New Mexico, Austin, Boston.
Best views: Almost anywhere in Alaska and the Maine coastline
Friendliest folk: We've encountered friendly people everywhere we've gone, but in the Deep South, they're just falling all over themselves being nice.
Standout alum: Bob Gannon, Las Vegas, who circumnavigated the world two and a half times in a single engine plane -- by himself
Most difficult driving: Boston
Most laid-back airport: Big Island, Hawaii
How did you find alumni to interview in all the states?
About half the ideas came from the alumni themselves, responding to emails we sent to known addresses prior to our visits. We'd say "Tell us about yourself. What do you? What's your story? We'd love to follow up with you." We also got ideas from folks on campus. Some names came from news clippings that I already had in my idea files before we even started this project.
What's been your most surprising road trip so far?
I didn't expect to fall in love with the Deep South -- Alabama, Mississippi, Georgia, South Carolina. It was awesome. We have the coolest alumni down there. And we were there in the spring. It was beautiful. I also didn't expect to really love the Southwest, because I'm not a big fan of the desert. We went down in November, and again, it was this great group of alumni. Everywhere we go, we have great alumni, but the Southwest trip was really fun. We went to Arizona, Nevada, New Mexico and California.
Did you have any mishaps along the way?
We haven't had any huge mishaps. No car accidents. We haven't had one single plane be late, let alone have a flight canceled. We get lost. That's the thing. It's sort of embarrassing because I'm the navigator and we have all these redundant systems. I've got an actual map, printed MapQuest directions and GPS. We still manage to get lost almost every day. We miss a turn or decide to go a different direction. And Jim likes to take shortcuts, so that's part of it.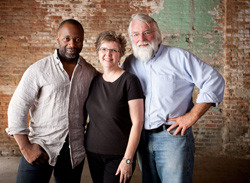 You've met alumni in all locales and walks of life. Is there a common thread among these people, beyond the cardinal and gold in the closet?
Man, there is. A few themes are recurring. First, their lives were changed at Iowa State. Over and over, we're told this story. Someone took a class or met a professor or something else happened, and a light bulb went off and it changed that person's life. Also, they all seemed to have really taken advantage of everything that Iowa State had to offer. That doesn't necessarily mean they were involved in a lot of clubs and organizations. Sometimes they were but, sometimes, it was just really focusing on their studies or getting those leadership skills.
Second, the people who we have met are very passionate about what they do. That's usually a career, but it could also be something else, like triathlons, for example. They're just very passionate and focused in their lives.
Some of these people are not real rah-rah. They're not necessarily sports fans or even members of the Alumni Association. But they had a good experience here. We haven't encountered any alumni who weren't 100 percent positive about their experience.