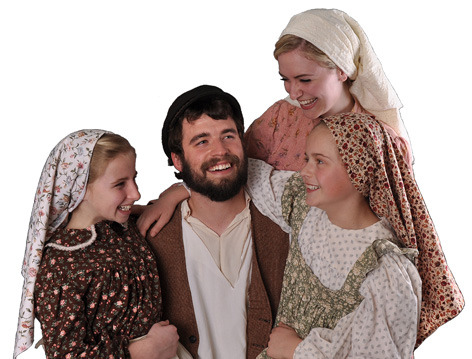 There'll be no shortage of tradition when the music and theatre department and Stars Over Veishea, part of Iowa State's annual Veishea celebration since 1923, present Fiddler on the Roof April 12-21 in Fisher Theater.
Tevye, a poor dairyman from the Russian village of Anatevka, is the center of this enduring tale of love and laughter, devotion and defiance, traditions and change. As he struggles to preserve his family's traditions for future generations, Tevye's five daughters have other ideas. What unfolds is a comical and poignant story of how letting go of the past actually can make the future bright.
Some of Broadway's most beloved songs help tell this traditional tale, including Sunrise Sunset; Matchmaker, Matchmaker; and Tradition.
Principal actors include seniors Anson Woodin (Tevye) and Hannah Skalbeck (Golde, Tevye's wife). Tevye's daughters are played by freshmen Bethany Berger (Tzeitel), Grace Chermak (Hodel) and Kersten Tipping (Chava), and Ames fifth graders Josie Baum (Sprintze) and Sarah Carlson (Bielke).
The production is directed by Brad Dell, assistant professor of music and theatre; musically directed by Don Simonson, professor of music and theatre; and choreographed by Co'motion Dance Theatre's Valerie Williams.
You don't have to wait for Veishea to see Fiddler on the Roof. Show times are April 12, 13, 20 and 21 at 7:30 p.m., and April 14 and 21 at 2 p.m. Tickets are $21 ($16 for students) and available at the Iowa State Center ticket office or through Ticketmaster.