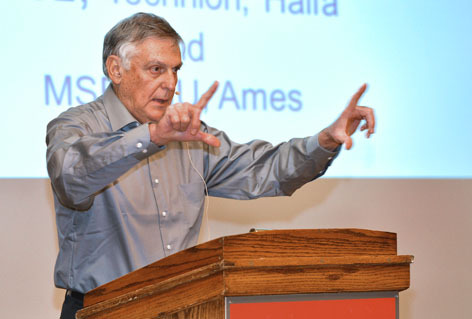 Dan Shechtman, speaking during a public lecture in the Great Hall of the Memorial Union on Wednesday, sounded more like a business professor than the winner of the 2011 Nobel Prize in Chemistry.
Shechtman said a combination of science, technology and entrepreneurship can jump start the economies of developing countries and can be a key to world peace and prosperity.
Here's a little of what he said:
"Universities like Iowa State need to teach engineers and scientists how to open startups and infect them with the bug of entrepreneurship." (Shechtman described a class in technological entrepreneurship he's taught in Israel for 27 years. The class attracts up to 600 students and features entrepreneurs telling the stories of their successes and failures. Shechtman also brings in professionals to talk about the law, management and marketing of startups. "I encourage people to copy what I do with this class.")
Addressing a freshman physics student: "If you become an expert in something, you have a good chance to succeed with a startup company. Start becoming an expert in something you think is a good idea."
"The motivation when you open a startup should be the success of the startup itself -- not money."
"Be humble as a scientist. Be humble as an entrepreneur. Listen to other people's ideas."
Shechtman is a Distinguished Professor of materials science and engineering, a research scientist at the U.S. Department of Energy's Ames Laboratory and the Philip Tobias Distinguished Professor at the Technion -- Israel Institute of Technology. Photo by Bob Elbert.